Every iPhone ever made speed tested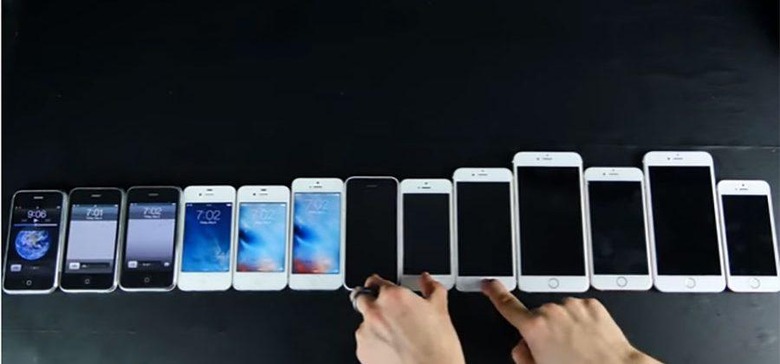 The iPhone has been around for nearly a decade now having started with the iPhone 2G and moved on through the years through many models to the latest iPhone 6S and 6S Plus. I'm sure many people out there have wondered just how much faster the latest iPhone 6s Plus is than that original iPhone 2G from nearly a decade ago. This speed test video pits every iPhone ever made against each other to see just how far we have come.
The test includes the following iPhone models: 2G, 3G, 3Gs, 4, 4S, 5, 5C, 5S, SE, 6, 6Plus, 6S, and 6S Plus. All of the phones capable of running iOS 9.3.1 update are running it, this is the iOS update that claims to make the older phones faster. The first test is a start up test to see how long it takes the devices to boot up and be ready to use. The phones are arrayed by date of release in this test and all were started at about the same time using a large USB hub.
The fastest iPhone to boot up was the iPhone SE, but it was a virtual tie with the second place device. Surprisingly the oldest iPhone wasn't the slowest to boot. The next test up was Geekbench and the two oldest devices had to run an older version of Geekbench since the latest doesn't work with them. The iPhone SE scored the highest, but just slightly.
The next test is a WiFi speed test with the three newest phones scoring much higher than the older devices. All the devices running iOS 9 scored the same on the Safari browsing test. The remaining tests looked at launching webpage, the camera app, speaker output, heat testing, and more. The camera test is very interesting showing just how far we have come in quality of images from the smartphone.