Evernote for iOS gets updated with rich text support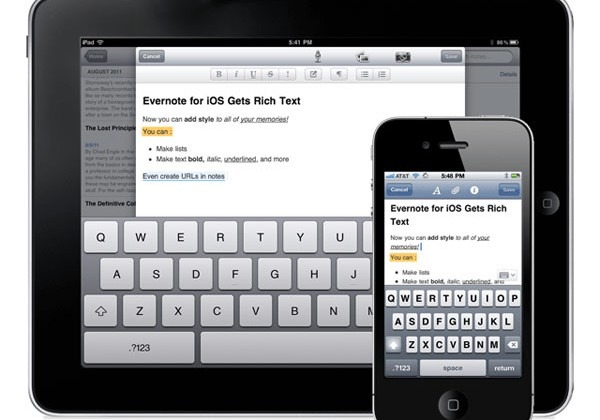 If you are a user of the iOS version of the Evernote application, the app got an update recently. The new update adds in some features that many people will appreciate. According to Evernote the new feature that was the most difficult, to implement was support for rich text. The new feature allows the user to bold, italic, and underline text. Rich text also means that the user can highlight text, add URLs, and create lists among other things.
Apparently, the New Note screen needed a lot of work to support the new text capability. The update will also allows the user to edit rich text documents as well. Work is ongoing on the ability to add checkboxes from the app, but for now, that is still only allowed in desktop versions. Other new features include the ability to access shared notebooks.
The shared notebooks feature allows iOS device users to tap notebook in the menu bar to access and the list of shared notebooks will be offered from there. Any of the shared notes viewed on the mobile device will be stored locally on the device. Right now shared notebook entries can't be created or edited on the iOS device. Other new features include the ability to search within notes, a slideshow view, an iPad redesign, all notes view, and the notes displayed as snippets.