Evernote explains how it works with Siri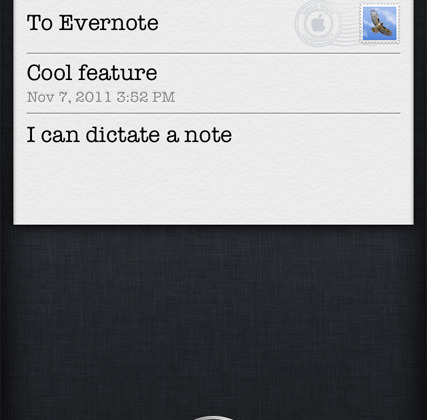 Evernote has posted a tip today on how to use its note-taking service with Apple's new Siri intelligent voice-assistant feature on the iPhone 4S. Siri is still a beta service at the moment and doesn't integrate with third-party apps, but you can make it work with Evernote for convenient hands-free note dictation and here's how.
You setup Evernote as a contact in your address book and use your incoming Evernote email address, which you can find by logging into your Evernote account and looking in the Settings area. Once this is setup, you simply launch Siri and say "Send email to Evernote" before saying the content of your note.
Siri will then send the email to your Evernote account, which will automatically store the email as a new separate note. This technique should work with other third-party apps such as Remember The Milk that also provide a way to submit entries via email.