Evernote announces new Moleskine Business Notebook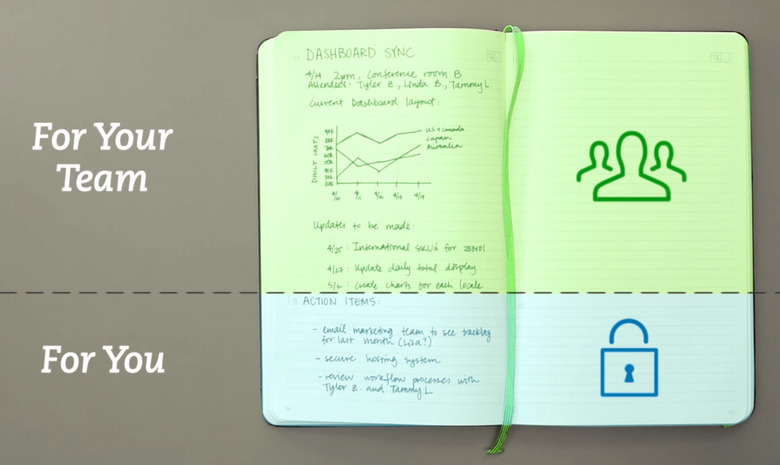 Anyone who sits in on a meeting and jots down notes understands how hard it can be to transpose them to a digital format. You draw a chart, maybe a quick graph — even visualize a concept for a project. Even harder is getting those ideas across to others. MoleSkine and Evernote are introducing their Business Notebook, designed to help you do just that.
The concept is much like we've seen with other Evernote/Moleskine projects: take a photo of your page, and it saves to your Evernote account. The difference here is that each page comes with a delineation that runs across the page about 2/3 down, which offers a way to separate business notes from personal reminders — or those quiet moments when you lash out at the boss on paper.
When you snap a pic of the page, Evernote gives you the option to share it with coworkers. Even more useful is the option to share the entire page, or just the top portion which you hopefully keep very buttoned-up and business-like. If you need a reminder to check on a project, put a mark in the icon on the top right of the page, and Evernote will keep it at the top of your digital list. Best of all, it recognizes (or at least tries to) your handwriting for search, and comes with a free three month Evernote premium membership.
The notebook is available now on the Evernote marketplace, and will run you $32.95. Currently supporting iOS devices (both iPhone and iPad), an incoming Android update will give true cross platform functionality. Sadly, no word on Windows Phone utility just yet.
Source: Evernote