Euricase ring box has an LCD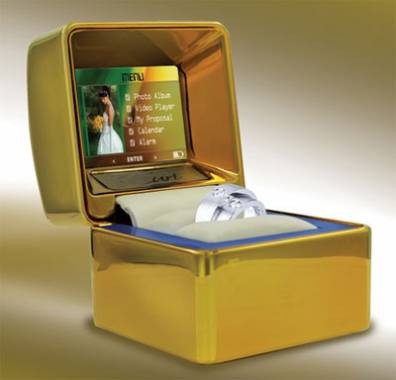 Want your proposal or ring giving ceremony to be remembered for a long time? Well you can start by buying a really nice ring, the next step though, is to buy this ring box that has a 2-inch LCD built in that can play video, show pictures, and more.
The memory that is included can do a slide show of up to 500 pics or up to an hour of video. There are also LED lights to shine onto the ring, since, you know, presentation is everything.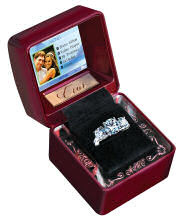 On top of that there is an alarm and calendar function built in, this damned ring box could replace your MP3 player if it had a headphone jack or speaker. The media show will start as soon as the case is opened and everything can be set up via USB on the case. You can buy the standard versions for $198.95 but the gold or silver plated versions will cost you $50 extra, a small price to pay if you are already paying $200 for a ring box. All I have to say is that you better make damn sure the ring you bought is far more amazing than this ring box, or you'll feel like an idiot.
Euricase Multimedia Ring Box may Outshine the Ring [via ohgizmo]