Eureka E! Powered Tent - roughing it is redefined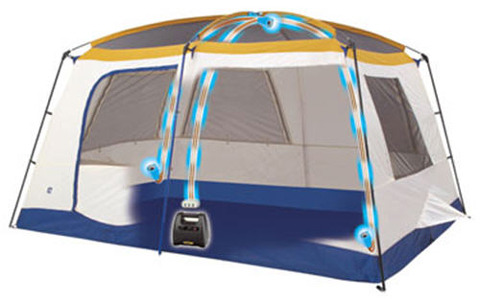 When I think of camping, I think of roughing it. You know, the kind of camping where you have to hike to get to your campsite, and the most high-tech equipment is a flashlight or a lighter. Unfortunately, with today's "always connected" mentality it's hard to completely unplug for a weekend getaway.
For those that always need to be connected, or have special circumstances that require having power at all times, (medical equipment for example) the Eureka E! is a perfect fit. The tent is wired up with 3 12-volt outlets so you can keep your phone, or whatever else you need charged.
Personally, I'm torn by this product. One part of me looks at it and chuckles at the thought of "roughing it" with glowing 12-volt outlets. The other side of me thinks it would be great to be able to plug in my phone and recharge my laptop in the middle of nowhere.
Eureka E! Powered Tent: You Might As Well Stay Home [via gizmodo]