Escaped penguin evades capture by swimming at "tremendous speed"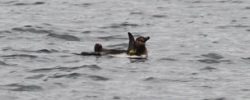 Calling all cars, calling all cars! Be on the lookout for escaped penguin, swims at tremendous speed, considered armed and cute. A one-year-old Humboldt penguin has escaped from the Tokyo Sea Life Park. The young penguin went on the lamb recently and was spied swimming in the Kyu-Edo River headed towards Tokyo Bay.
The penguin apparently escaped from the aquarium, which is harbor front, by climbing a wall. How exactly a flightless bird can make it over a wall is unknown. Perhaps he is a fan of Penguins of Madagascar and knows illegal ninja moves from the government. The aquarium operators didn't know the penguin was missing until the director of a nearby zoo e-mail them a picture of the little guy frolicking in the water.
Apparently, officials have tried to capture the penguin, but the penguin is able to swim at tremendous speeds and has thus far eluded captors. According to a park official, the aquarium is making great efforts to recapture the penguin. This particular penguin breed is from the Pacific coast of South America, making it one of the warm weather variety.
[via BBC]