Ericsson Report: Smartphone Traffic To Grow 10 Times By 2019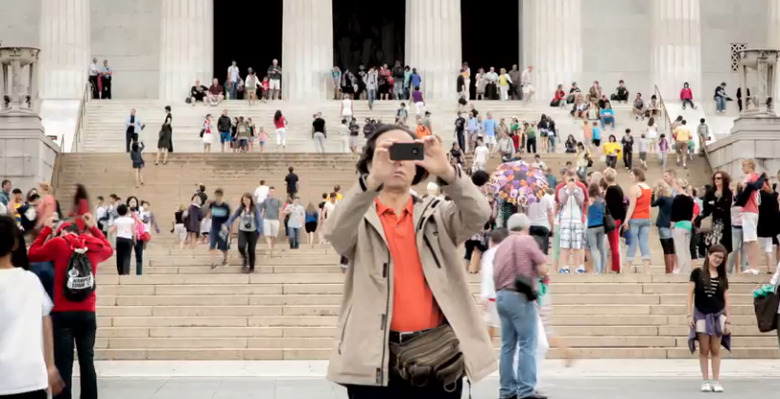 It took five years for smartphone subscriptions to reach 1 billion customers worldwide between 2007 and 2012, but it will only take two years to reach 2 billion by 2014–and it will only take five more years to reach 5.6 billion by 2019, this quarter's Ericsson Mobility Report states. That will be 60% of all mobile subscriptions–the rest of which being non-smartphone mobile devices like feature phones, tablets and other devices–of the 9.3 billion mobile subscriptions projected to be activated in 2019. Smartphone traffic will reach 10 exabytes that year.
That's ten times the current data traffic now generated by smartphones alone. Don't even try to pretend to fully comprehend that number. An exabyte is 1,000 petabytes, which are 1,000 terabytes, which are 1,000 gigabytes. The stratospheric rise in smartphone traffic will be attributable a tripling of smartphone sales by 2019, according to the report.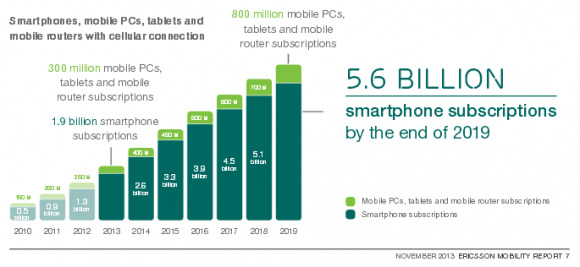 China will be the leading driving factor in terms of smartphone uptake. That and other emerging markets will collectively be the main fuels for growth as lower priced models of smartphones become increasingly more available.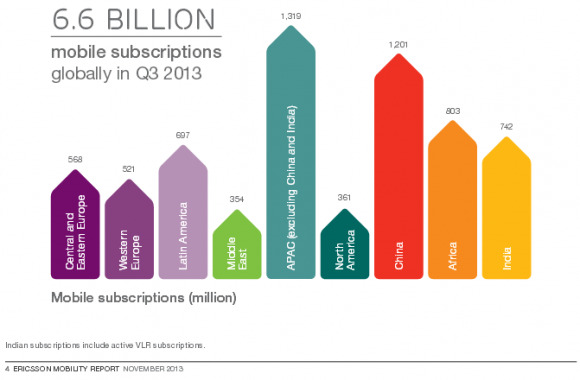 Fifty percent of all data traffic in 2019 will be video, according to the report. Only 10% will be social networking and Web services. WCDMA/HSPA networks will cover 90% of all traffic, and LTE networks will cover an overlapping 65%.
The report also evaluated how well smartphones behave in cities, where demand is highest but physical blockage is also the most prevalent.
SOURCE: Ericsson (PDF)