Ergotron Neo-Flex Dual LCD Lift Stand Slashgear Review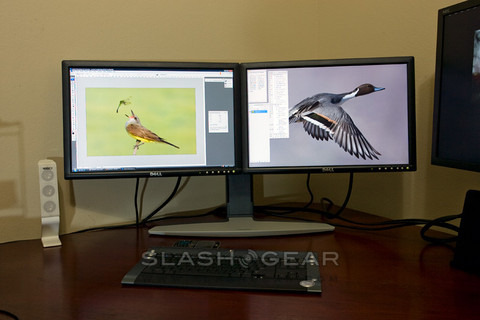 As a wannabe photographer for years, I've used and appreciated the convenience of a dual-monitor set-up for culling and editing images. You can never have enough screen space when editing images in dual monitor-capable application like Photoshop, it eliminates the hassles of toggling in-between apps and allows for extra information to display on-screen. The down-side of having multiple monitors is having an extra stand occupying your desk space. For that reason, Ergotron offer an affordable dual LCD lift stand, the Neo-Flex, providing a simple yet ergonomic design to improve productivity and make best use of your desk space.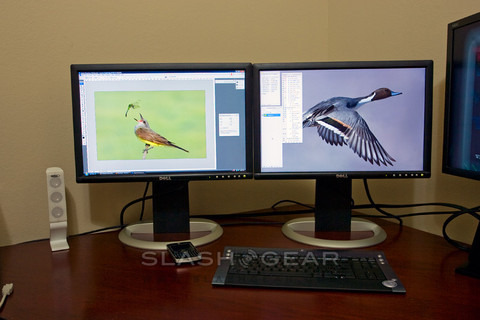 Some low-tier LCD monitors come with non-adjustable stands, making it hard to arrange the unit to your tastes and the most comfortable level. What we have today is the Ergotron Neo-Flex LCD stand designed to fit 22-inch or smaller monitors with a range of adjustments including sliding, lifting, panning and even allowing you to rotate the screens individually.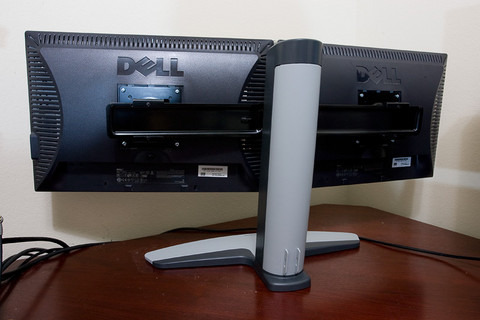 The package comes with well illustrated instructions, miscellaneous tools and screws help to put together the set-up. The only tool that wasn't included is a Phillip's screwdriver; it took me roughly 30 minutes to mount my twin Dell 2005 LCDs, a pair of 20-inch widescreens, on the stand. The unit offers two upward angles to optimize viewing experience and it's one area that requires your attention before proceeding to the next step. To change one angle to another, you'll have to remove both monitors and then remount them back on, taking a considerable amount of time. I picked an 8.5-degree upward angle at first, but it proved way too steep. The 3.5 angle appeared more normal and certainly was more suited to my viewing tastes; your mileage may vary.
The unit mounts to the monitor with the supplied bracket on a slide rail. A pair of screws are used to secure the monitors from sliding, once you have them in position. To switch your display from portrait to landscape mode, or vice visa, you have to loosen the screw first, which can be problem if you change orientation often.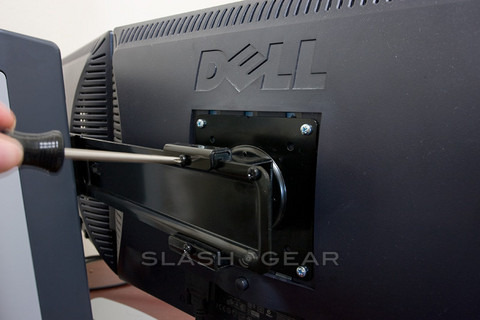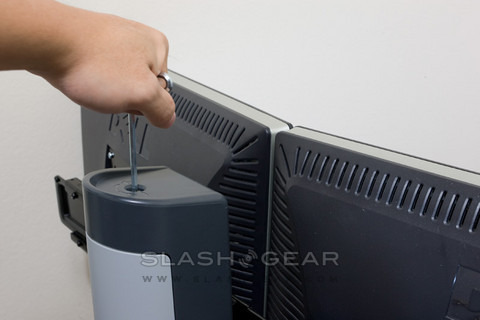 What I particularly like about the stand is the integrated base roller, which allows for 360 degree rotate with little or no effort at all. It also has the company-patented motion technology, which is basically a fluid-motion-like height lifter for the set without any knobs or levers, the tension being adjustable to handle various monitors of different weights. You can easily adjust the height of the unit by up to 5-inches with your fingertips without any stiffness, and it stays in place with no downward creep. Since I have a widescreen monitors in a relatively tight space, having two displays together is like having a giant and ultra-wide screen. On the flip side, getting the cables organized around can be quite a problem if you have little room to work with. Thanks to the fluid motion lifter and roller-base, I got it up and running in no time.
The Ergotron Neo-Flex dual LCD monitor stand offers a good investment for rearranging your workspace, being non-model specific and sturdily constructed. The design offers ergonomic features at the price of $149, and setup is simple for anyone who knows how to follow plain instructions.