Ergonomic Foot Warmer - Keeps your feet nice and toasty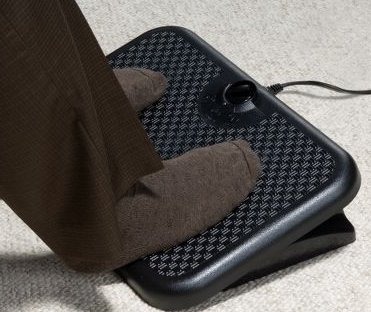 It's finally getting to be the time of year where it starts to cool down outside. Granted, it's still plenty warm enough to go outside in a t-shirt, but in a couple months we'll be bundling up and trying to keep warm. Here's a cool heater that I would consider using under my desk.
I have cold feet. Not the kind you get when you're up at the altar, rather my feet are cold in the literal sense. When winter rolls in, I usually have thick socks and a pair of warm slippers around the house. No, not the pink fuzzy kind, the more masculine kind (if there is such a thing). However, if I have a heater under my desk, I love to prop my feet up on it, which isn't the best idea. However, this Ergonomic Foot Warmer sounds like an awesome idea.
The Ergonomic Foot Warmer is a slanted footrest that stays warm to the touch. Just prop your feet on it, and they'll be nice and toasty. You can pick one up for around $80.
The Under Desk Foot Warmer [via coolestgadgets]