Epson unveils four new PowerLite 1700 series projectors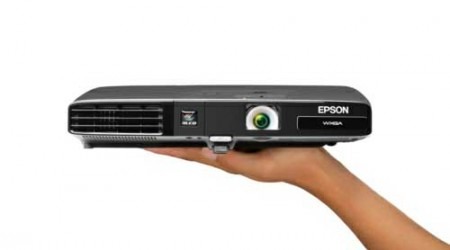 Epson has unveiled new offerings in the ultraportable projector segment in the PowerLite 1700 series wireless projector family. The 1700 series has several projector models that weigh under 4 pounds and are as thin as a laptop at 1.7 inches thick. The projector is aimed at mobile professionals in the business world and include the PowerLite 1751, 1761W, 1771W, and 1776W.
The projectors are all reasonably priced ranging from $649 for the 1751 to $1099 for the 1776W. The 1751 and 1761W projectors offer 2600 lumens of color brightness and white brightness. The 1771W and 1776W offer 3000 lumens of color and white brightness. The 1751 projector has XGA resolution with the other three projectors offer WXGA resolution.
All of the projectors with the W designator have wireless 802.11 Wi-Fi integrated and the ability to offer projections via most iOS devices. All the projectors have HDMI connectivity and support USB plug-and-play. They also have integrated USB ports for directly showing presentations from a USB device. The projectors also have 1.2x zoom and can throw 60-inch image from 4 feet away from the surface. All of these projectors are available right now and use 3LCD technology.