Epson Ships Moverio BT-100 Android See-Through Glasses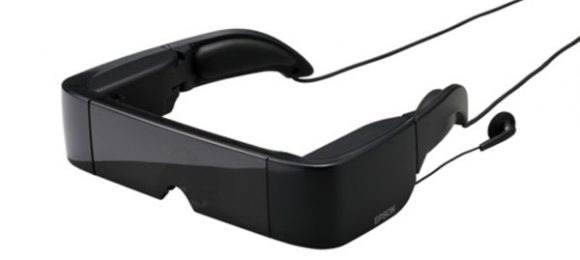 Epson America has announced it is now shipping the world's first Android-based see-through wearable display called the Moverio BT-100. These things look like glasses a high-tech Ray Charles might wear. The glasses use micro projection technology and a track pad that is Android-based to allow the wearer to enjoy video and other digital content on a virtual 80-inch perceived screen.
The glasses have integrated Wi-Fi connectivity and an internal rechargeable battery good for about six hours of use. The glasses have a microSD card slot to allow the direct playback of material and 1 GB of internal storage. The most interesting aspect of these glasses is that the projected video hovers over the real world so the user can see what's going on around them as they watch.
These glasses would be perfect for augmented reality. The glasses support Adobe Flash and have Dolby Mobile surround sound delivered to integrated detachable earphones that are included with the glasses were users personal earphones. The glasses also support side-by-side 3-D content. Users can order the BT-100 glasses right now via Amazon for $699.99 were directly from Epson.