Epson PowerLite 410W projector announced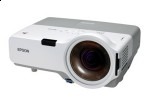 Epson is really cranking out the classroom projectors these days and have just announced another one to add to the mix: the PowerLite 410W. This projector is set to replace the 400W model and offers a wide variety of features that are the perfect pair up for classroom projection.
This model shares a few features with the older model including a 1,280 x 800 resolution and a 16:10 aspect ratio. However, the 410W has a few new things as well including a shorter-throw lens that allows for a 16:10 image from two feet away, 2,000 lumens brightness and a wall mounting option.
The rest of the features are pretty standard, however, and include a 10-watt speaker, a closed captioning decoder, the E-TORL lamp tech with 4,000 hours of battery life, LAN and Ethernet ports, 15-degree vertical keystone correction, a 1.35 digital zoom and a variety of background color modes. You'll be able to get the Epson PowerLite 410W in April for $1,299.
[via I4U News]