Epson Moverio BT-200 smart glasses overlay the digital world upon real life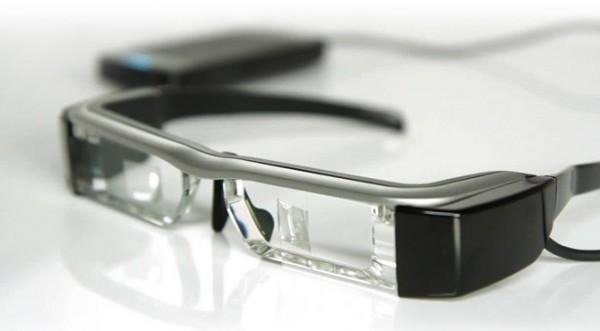 Epson has introduced the next generation of its Moverio smart glasses, bringing with the new BT-200 model a variety of new features and a light-weight design and a "true binocular display" offered up by using miniaturized LCD-based projection. Essentially, the digital reality is overlaid upon the real world resulting in a variety of augmented tasks and activities, not the least of which having to do with gaming and video entertainment.
The Moverio BT-200 offers stereoscopic displays projecting transparent items over real-life objects, doing so with a 16:9 aspect ratio and 23-degree field of view. There's a 360-degree panoramic functionality also possible with third-party software utilizing Epson's head-tracking features. Beyond that, this latest generation is also designed to keep your private activities private using light guide angles — others around you won't be able to get a peek at what you're doing.
As far as specs go, the BT-200 features a 960 x 540 qHD resolution, as well as a variety of sensors — gyroscope, magnetic compass, and accelerometer — for the aforementioned head-tracking functionality. There's a camera mounted on the front for photography and video recording, as well as marker detection. There's integrated WiFi, support for MP4 playback, Bluetooth 3.0, a microSDHC slot that supports up to 32GB, and Dolby Digital Plus surround sound.
Said Epson General Manager of Visual Products Atsunari Tsuda: "The Epson Moverio BT-200 smart glasses offer consumers crystal clear video as well as access to incredible new augmented reality experiences and relevant information according to their personal interests and needs. Leveraging Epson's leadership in LCD projection technology and visual imaging, the Moverio BT-200's transparent display and powerful new features give users a new way of seeing the world."
SOURCE: Epson