Epson MegaPlex Projectors Provide Big Screen Viewing For iPod, iPhone, And iPad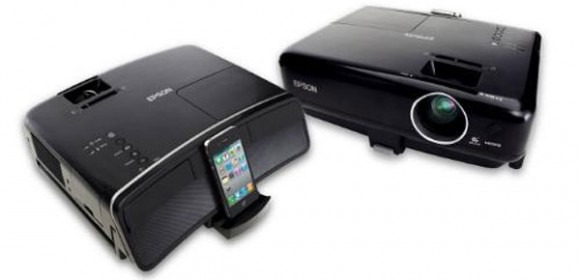 Epson has launched a pair of new projectors that are aimed at the users of Apple iOS gear like the iPod touch, iPhone, and iPad. The new projectors are both in the MegaPlex line and there are two models. The two models include the MG-850HD and the MG-50. Both of the projectors share some of the same features. Both of them have a rear dock where the Apple gear sits to send the video out to a much larger screen.
The projectors are aimed at different user types including the home theater fan and professional user that might want to give presentations completely from their tablet or smartphone. Both of the projectors use 3LCD technology inside. The 850HD projector supports up to 720p resolution and has a brightness of 2,800 lumens. The MG-50 is a 540p resolution projector with 2,200 lumens of brightness.
Both of the projectors have 10W speakers with stereo sound and the speakers can be used as a stereo docking station as well. The projectors are also both Plug and Play systems and have HDMI and VGA inputs allowing them to be connected to computers, game consoles, and more. The MG-850HD will sell for $799 and the MG-50 will sell for $699 with both available this month.