Epson Dims The Lights, Spotlights A New Home Theater Projector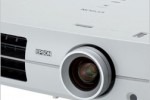 Do you love your home theater setup?  Do you sit at work all day, counting down the minutes until you can go home and watch a movie?  Are you thinking about your home theater right now?  So is Epson.  They want to be a part of it, and as a result, they've announced a new home theater projector - the PowerLite Home Cinema 6500 UB.
The PowerLite Home Cinema 6500 UB will cost around $3,000 when it hits retail, but no official release date is known yet.  You'll have some time to figure out whether or not it's right for you.
[via Electronista]