Epic just made a big change to Fortnite's Team Rumble mode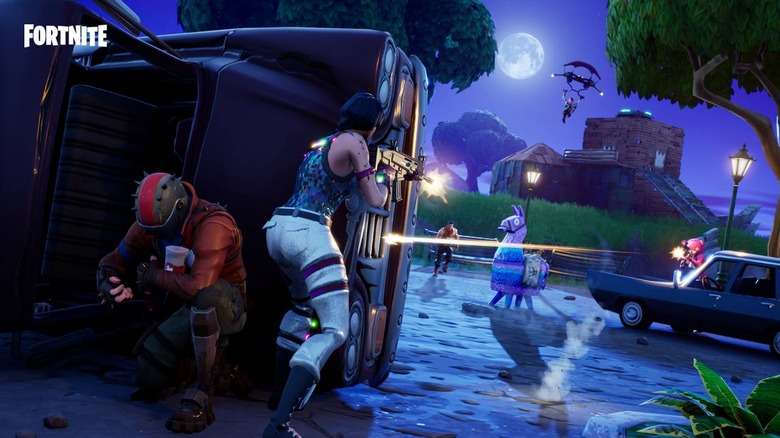 Though Fortnite became popular due to its last-player-standing battle royale mode, casual players have largely taken to the game's Team Rumble, a Limited Time Mode that has essentially become a permanent fixture in the game. On the afternoon of July 10, Epic Games took to its Twitter account to make a simple announcement: it has changed how many kills it takes to win a match on Team Rumble. Not everyone is happy.
Team Rumble is a team deathmatch game mode in Fortnite battle royale. As with other team deathmatch games, the mode splits players into two different teams and pits them against each other. The first team to the reach the match's elimination goal wins the round; players on the winning team receive additional points for their victory.
This mode has proven so popular with Fortnite players that Epic largely keeps it in permanent rotation — the only changes at this point tend to be limited time tweaks, such as temporarily turning on siphoning or adding lava. Many players say they exclusively play Team Rumble due to respawning, enabling them to actually enjoy the game rather than dying from the first player they encounter.
The elimination goal in Team Rumble has been decreased from 150 to 100 to shorten match length.

— Fortnite (@FortniteGame) July 10, 2019
Until now, the elimination goal per match has been set at 150 — the first team to reach that number of eliminations (against the other team) wins. On July 10, Epic announced on the Fortnite Twitter account that it has lowered that elimination goal to 100 in order to make each Team Rumble match shorter in duration.
It's unclear why Epic felt the need to short the match length. There doesn't appear to be any history of complaints about Team Rumble's elimination goal among players, many of whom are complaining that a shorter duration will make it take longer to reach elimination goals and rake in XP.
Some players speculate the shorter duration may be a technical necessity — many players have noted lag in Team Rumble matches that involve a huge amount of building, an issue that could be addressed by reducing match length. It's also possible that too many players were leaving these matches prematurely, which may have spurred Epic to make an adjustment.