Epic gives first look at Fortnite X Uniqlo hoodies and shirts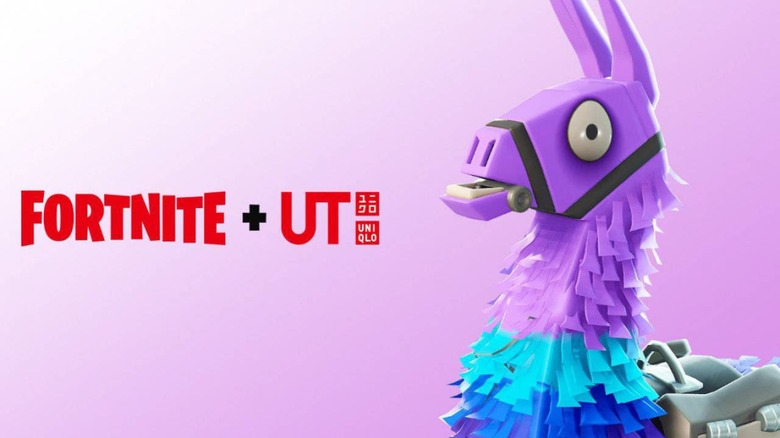 In July, Epic Games announced a collaboration with Uniqlo USA for an upcoming line of clothing items designed for Fortnite fans. The new Fornite X Uniqlo line will feature a variety of clothing items, including hoodies and shirts, but Epic didn't provide any samples of the upcoming products at that time. That changed today with a tweet from the company that includes several tops featuring the Fortnite logo and more.
In a tweet on Friday, Epic shared an image featuring seven of the upcoming t-shirts and hoodies that will be launched by Uniqlo. The sample selection includes a single white hoodie featuring the Fortnite logo, as well as a t-shirt with the Raven skin's head, another t-shirt that reads "Slurp Juice," a hoodie featuring the techno llama, and more.
Get a sneak peek at the Fortnite X @UniqloUSA line up hitting this December 🔥 pic.twitter.com/YDyEy0m5M6

— Fortnite (@FortniteGame) September 13, 2019
The designs range from obvious to quite subtle, such as with the white t-shirt that shows a tiny 'Cuddle Team Leader' badge. Epic calls this a sneak peek — it's unclear how many products will be released by Uniqlo under this collaboration. The company didn't reveal any details with its initial announcement.
The Uniqlo clothing will join the existing Fortnite merchandise sold by Epic Games through the Fortnite.com website. That official merch includes a selection of apparel, the variety of which is expansive; fans can find tank tops, hoodies, and a huge variety of t-shirts. The company also sells a large Durrr Burger onesie.
Epic's own clothing prices starting at $20 for a t-shirt, ranging up to $50 – $60 for hoodies and $25 for the tank top. Designs are expansive, including the Battle Bus, World Cup, Drift Mask, Block Party, Tomato Head, Durrr Burger, and more.