Epic Games is bringing Fortnite V-Bucks cards to physical stores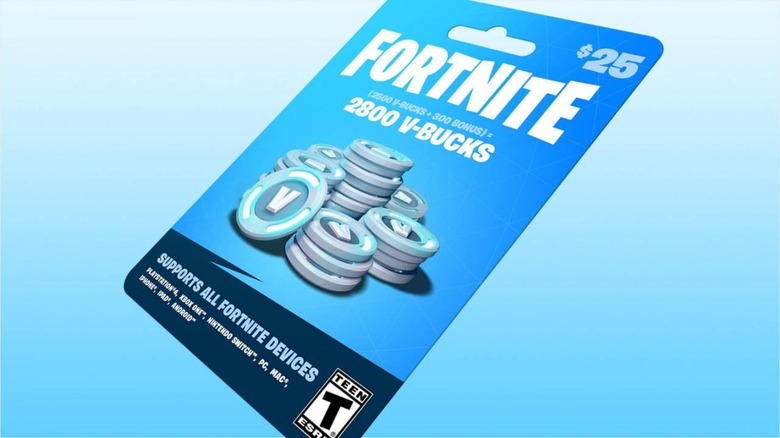 Underscoring the vast popularity of its battle royale hit Fortnite is a new business move from Epic Games: the launch of V-Bucks reload cards in physical retail stores. These V-Bucks cards are similar to the packaged gift cards, prepaid debit cards, and wireless phone recharge cards sold in many stores. The Fortnite in-game V-Bucks store isn't going anywhere, however.
Until now, the only way to get V-Bucks, the currency used in Fortnite, was to directly purchase it using a credit or debit card through the game's V-Bucks store. Players are given multiple reload options starting at 1,000 V-Bucks ($10), which are immediately loaded in the player's account for purchasing cosmetics and emotes.
Generally speaking, 1 V-Buck is equal to $1, though Epic sometimes offers special packs with bonus V-Bucks, as well as free rewards to Battle Pass players as they level up through the tiers. Those options will be joined by V-Bucks cards offered in some US retailers in the near future.
Epic says the cards will be rolling out to stores over the next few weeks; they'll also be available to purchase online. The cards finally offer a solution for players who have been requesting a way to give their friends and kids V-Bucks as gifts without having to credit card details.
There's a benefit to purchasing the physical cards over the digital currency: they come with a small bonus, such as 300 extra V-Bucks with the $25 card. The cards will soon arrive in stores in Germany, Canada, and Mexico; as well, there are plans to bring them to France, the UK, and other countries, though exact rollout dates are unclear.