Epic and NVIDIA announce Unreal Engine 3 for Windows 8 and Windows RT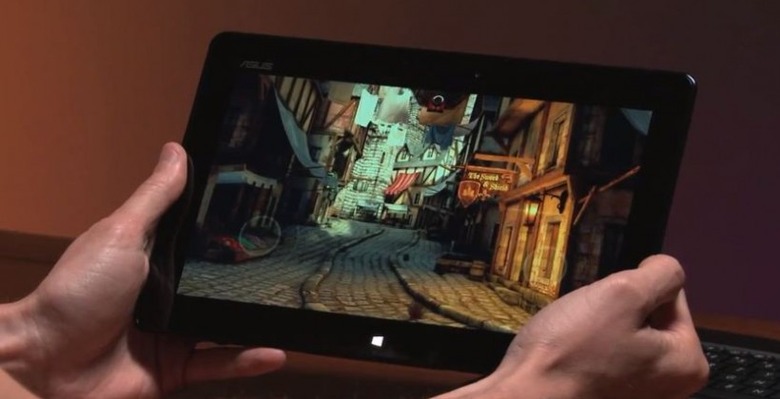 Epic and NVIDIA announced at IFA today that they've teamed up to bring Unreal Engine 3 to Windows 8 and Windows RT. The announcement was made during the ASUS Vivo Tab RT press conference earlier this morning, and we were given a demo of Unreal Engine 3 running on the device, which comes complete with a Tegra 3 processor. Needless to say, it looks pretty good.
The demo, dubbed "Epic Citadel," doesn't show too much – just a fly-through of a medieval-looking town – but the graphics do look awfully nice. Our host says that the demo is running at 35 to 40 frames per second, and also points out that what's running on the ASUS Vivo Tab RT is the "full PC implementation" of Unreal Engine 3. This means that developers who use Unreal Engine 3 on other platforms will have an easier time porting their games to Windows RT or Windows 8, so it may not be long before some high-profile ports are announced.
Indeed, there are already plenty of great games that are built on Unreal Engine 3 – the Mass Effect series and Rocksteady's Batman series being just two examples. The possibilities for gaming on Windows RT just got a whole lot more exciting with Unreal support announced, and the visuals that we see in the demo by NVIDIA are pretty impressive for a tablet. Have a look at it below.
There haven't been any Windows RT games announced with Unreal support yet, but you can bet that they're coming, as Epic says that Windows RT code is available now for Unreal developers. The Epic Citadel demo is certainly impressive, but we'll have to wait and see how much support Windows RT garners from current Unreal devs. Stay tuned.
[via NVIDIA]