Envious Illuminated Shot Glasses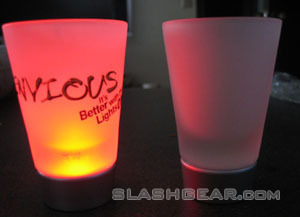 Do you love drinking? Then look no further to the Envious Illuminated Shot Glasses. For only $9.99 from www.envious.com, they would illuminate your mood for a couple of drinks. The inventor has already donated some of these shot glasses to a fundraising event held by Forbes to raise money for Katrina relief.
The shot glasses are made of frosted glass and there is a LED that is held in a small base, which also holds a battery capable of 3,000 uses or about 35 gallons of liquor. Once the shot glass is tapped, the shot glass lights up for six seconds.
This would be excellent addition to your liquor collection, consider buying it.