Entire Playboy back catalog comes to iPad, just as Hef Promised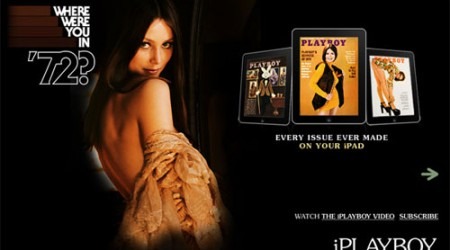 Steve and Apple are well known to not like porn on the iPhone and the iPad. For a while, there were adult apps for the devices, but that didn't last long. Back in January the ultimate Playboy, Hugh Hefner himself tweeted that the entire back catalog of Playboy would be coming to the iPad. Hef even said in the tweet that the magazine would be complete and uncensored with all the ads and stories available for you to read as well.
That was good news because you could still use that "I only read the articles" excuse that has served many over the years. The inevitable question of comes along with the launch of the online version of Playboy. Just how did Hef get the iPad version past the prudes at Apple? The answer is pretty easy, he didn't . The iPad service isn't an app, it is a digital version of the mag optimized for the Apple tablet so it didn't' have to go through the approval process.
The service is apparently a website optimized for the iPad and naturally called iPlayboy. The service promises access to 57 years of the magazine and 682 issues. The iPlayboy service promises it is meant to "appeal to that sense of collective nostalgia and affinity." The service also calls itself "the world's sexiest time machine." iPlayboy will cost $8 monthly, $60 for a year, or $100 for 2-years.
[via The Register]