Enermax Jazz Series is a zero screw enclosure for your HDD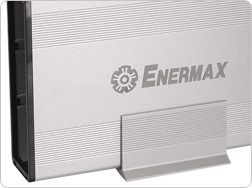 This HDD enclosure requires zero tools, except maybe the one assembling it, but that's more of a self-image thing. So they have aluminum bodies, and waved mesh covers and they require no tools or screws, just a 3.5" HDD.
They also come with acrylic stands and have 3-color LEDs built into them. The 3.5" enclosures will be available in either eSATA or SATA-to-USB for $65 and $55 respectively.

There will also be a 2.5-inch enclosure for $25 that only works with SATA but has a water-resistant bag with it. The entire Jazz line should be selling in early October from various online retailers.
Enermax intros 'zero screw' HDD enclosures [via electronista]