EMTEC unveils new Gdium netbook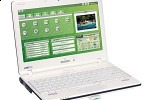 It appears that EMTEC's new Gdium netbook is ready for prime-time, or in this case, ready for display at CES.  We went hands-on with a non-functioning prototype of the Gdium last August at IFA 2008 and now have pictures and specs for what appears to be the final product.
A unique feature of the Gdium is its "G-Key", a USB key that allows multiple people to use the machine without leaving any trace of their activities.  We aren't sure on a release date or an exact price, though EMTEC's own press release stated the device would be "sub-$400", which puts it right in the ballpark of most netbooks.