EMTEC announces new Gdium netbook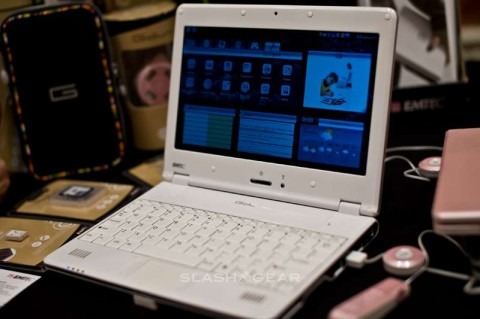 Leader in mobile storage solutions, EMTEC, has announced the Gdium ultra-portable, affordable netbook computer. In a world of netbooks we are seeing devices spring up left and right, who knows where the next netbook will come from?
The Gdium is fairly small weighing in at just 2.6 pounds with dimensions of 9.6 x 7.2 x 1.5 inches. This new netbook backs at 10-inch screen with 1024 x 600 resolution just above a full QWERTY keyboard (nothing new there). The software application package that comes with Gdium is based entirely upon open source software. Included are a bunch of familiar software applications including Firefox Internet browser, Thunderbird email, instant messaging and even VoIP support.
The Gdium also comes with a G-Key that is required in order to fire up the netbook. The G-Key contains the operating system, a Linux distribution by Mandriva, G-Linux, the applications and the personal data.  Gdium runs an optimized version of Mandriva Linux OS that has been specifically designed for a 64-bit system. EMTEC has priced this netbook in the $400 range in order to better compete with rivals and make their mark on the netbook market.