Element Liquid Case for iPhone Review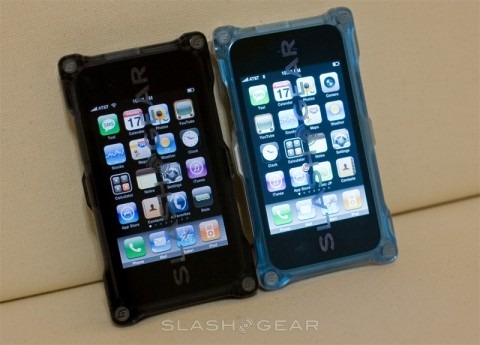 Aftermarket accessories for the iPhone 3G have a tough time standing out; it's a crowded market and if you're offering the same old silicone, transparent plastic or leather case, you're likely to sink without trace. Element have certainly managed to carve a niche for themselves, and they've done it by carving distinctive cases out of alloy or injection-molded polycarbonate. They send SlashGear two Element Liquid iPhone cases to try out.
These certainly aren't cases you throw on or off to match your sweater. Each Element Liquid comes in three parts, an injection-molded transparent polymer cradle into which the iPhone sits, a molded polycarbonate bezel which then fits on top of that, and a translucent "Flip-Lid" which protects the display. That lid is held on by four small magnets, one at each corner, while the cradle and bezel are actually screwed together with a non-standard (supplied) screwdriver. It certainly makes it unlikely your iPhone will fall out, but it also makes it time-consuming to change case.
Once inside, there are cut-outs for the camera on the back and the volume/mute switch on the side, together with the lock/power button up top and the data port on the bottom. Don't expect your iPhone to sit comfortably in a cradle, however, once it's wearing the Element Liquid; in fact don't expect compatibility with anything but a cable hook-up.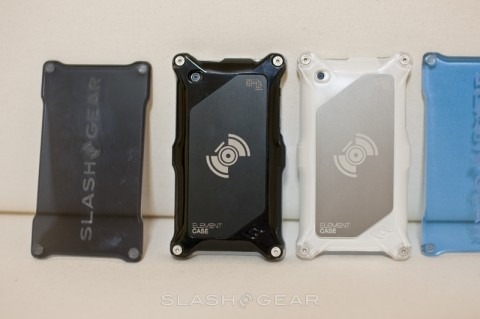 In use, the Flip-Lid pulls off the front magnets and can be stored flush on the back of the case. That gives you access to the iPhone's touchscreen and home button. Since it's translucent, even when it's in place you can see anything on-screen, but of course there's no way to control anything. It does turn the iPhone into a two-handed device, however, both for handling the cover and holding the cellphone itself: if you like your cases to maintain Apple's sleek lines, the Element Liquid is not for you.
So it's certainly distinctive, but the question is how much protection does the Element Liquid give? According to Element, the case is designed to "take the hit to save your phone", which basically means that the polycarbonate will break before your iPhone does. That's reassuring when you're dealing with a $300+ cellphone, but then you're also looking at a $99 case. Element also make a machined-aluminum case called the Element ALLOY, which doesn't seem quite so sacrificial, but they start at $149 and only fit the original iPhone, not the iPhone 3G.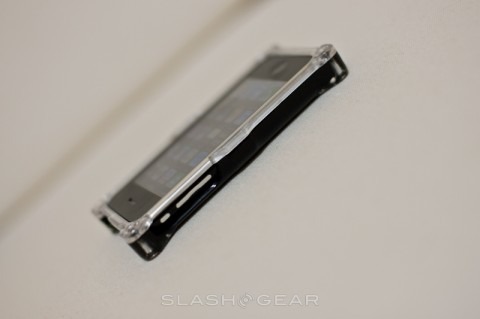 What you do get with the Element Liquid is the opportunity for customization, plenty of it. That starts with back painting (where the inside of the case is painted, rather than the outside, which makes it more scratch-resistant and gives it a deeper luster), then an anodized aluminum back-plate is laser-engraved with a limited-run pattern and fixed to the back. The Flip-Lid is available in a range of tints and with various graphics, too. Alternatively, send Element your own custom design or logo (as with the SlashGear name and logo you see here) and they'll run you off a completely unique case.
For some, that flexibility will be enough to satisfy the sticker price. Element are clear that their patterns and graphics are regularly retired, keeping each batch of cases comparatively rare, and if you want a distinctive way to protect your iPhone or iPhone 3G then this is certainly it. The Element Liquid is also advertised as making it more comfortable to hold the iPhone when gaming or watching video; opinions on this were split among the people we asked, so your mileage may vary.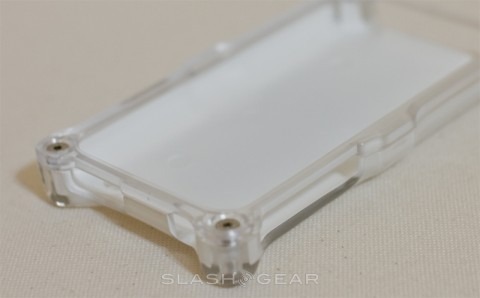 If you're less keen on standing out, and want the thinnest and lightest way to keep your iPhone 3G free of scuffs and scratches, the Element Liquid isn't for you. You could pick up a range of different slip-cases and silicone skins for its $99 starting price, and switch between them before the Element owner had even dug out the special tool. If anything, though, that only serves to make it more of a niche product, and that's just what Element – and buyers of their cases – are looking for. If you fit the demographic, you'll be getting a very special, very rare case indeed.