Electric driverless bus to operate in California, Singapore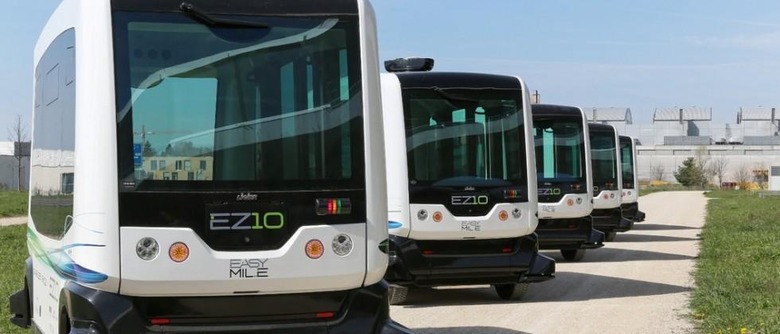 A French company named EasyMile is bringing one of its electric driverless buses, the EZ10, to both California and Singapore. The buses will be operating at a car park in the latter country, and at a business park in California, doing so in a way that is both futuristic and environmentally friendly. As you've probably guessed, the bus will not be used on public roads in either location, instead running on pre-set routes.
The EZ10 can hold a reasonable number of passengers at 12, making it a feasible public transport method. It also runs off a lithium-ion battery, and is completely electric. The bus can run for 12 hours after being charged for eight, and can travel up to 50 miles on a charge. it has a top speed of only 25mph, but travels at an average of 12MPH.
The bus can operate on normal asphalt – no modifications are needed. It will follow a virtual route that is created for the bus, such as between two points. As with other self-driving cars, the EZ10 is equipped with tech that allows it to detect hazards and obstacles that make their way into the road, as well as dGPS.
The bus is coming first to Singapore, specifically to the park "Gardens by the Bay", where it will undergo a 2-week trial on a nearly 1 mile looped route; that will start this upcoming December. Then, around summer 2016, another EZ10 bus will go into operation, that one in San Ramon, California, at Bishop Ranch. Some of these buses have already been deployed elsewhere, including in Switzerland and Finland.
SOURCE: Gizmag