Elecom Mouse: M-D13UR Series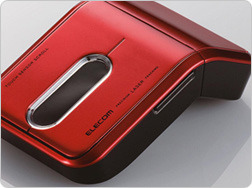 Looking for a new mouse for your laptop computer could be a hard work. You'd need something that portable and fit in your hand. Choose the right one that worth buying is somehow not so easy. Elecom has introduced the M-D13UR series, the flat mouse that can change to the three-dimensional form. It is a wireless mouse with the FH-SS system of 2.4GHz allowing approximately 10m operation. The laser beam of non-visible light gives the M-D13UR a high accuracy performance. The back of the mouse can rotate 180 degrees creating more natural angle when use at a desk or a flatter surface.
For the price of 7,875 Yen (approx. $68), the mouse is available in silver, black, and red colors.

Elecom launches mouse with changing shape, touchpad [via electronista, elecom]