Eizo RadiForce LS560W LCD monitor revealed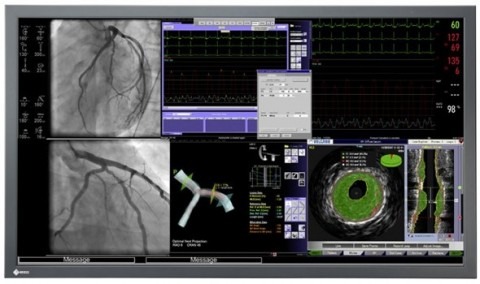 Eizo isn't exactly the cheapest display maker out there, but they do offer high quality products–that can't be denied. However, they've really outdone themselves this time around with the RadiForce LS560W LCD monitor, which is 56-inches of brilliant screen goodness.
What really sets this monitor apart is its amazing resolution, which is 3,840 x 2,160. This brings it awfully close to 4,000 x 2,000. Yeah, I was impressed, too. I think what's especially cool here is the fact that this display will be used in operating rooms. If there's one place I could think of justifying spending a lot of money on a monitor, it would be in an operating room.
Typically, operating rooms use multiple monitors to view various images, x-rays, etc. But with this monitor, hospitals will now be able to display the multiple images on just one monitor. It features a 176-degree field of view, 450 nits of brightness and a contrast ratio of 1,200:1. There's no word on how much it will cost, but you can rest assured, it'll be a lot.