Eizo Foris FG2421 240 Hz gaming monitor debuts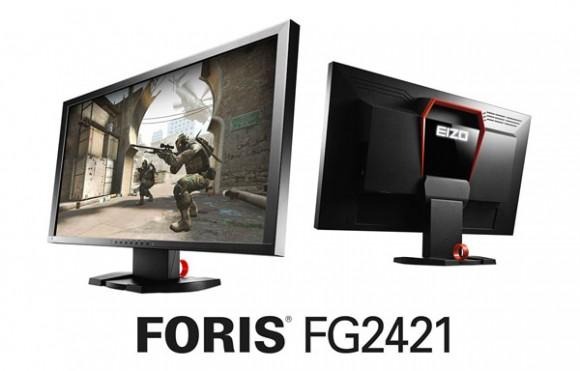 Eizo is a company known for making high-quality computer monitors aimed at professional users and the medical industry. The company has announced a new 23.5-inch gaming monitor called the Foris FG2421. The manufacturer claims this is the first monitor aimed at gamers to feature a 240 Hz refresh rate.
The FG2421 promises low input lag and a number of preset gaming modes developed in cooperation with professional gamers making the monitor ideal for video games with fast action such as shooters, racing games, fighting games, and more. The display has a feature called Turbo 240 allowing it to support a 240 Hz refresh rate, that's double the typical 120 Hz refresh rate normally found on gaming displays.
Eizo says the monitor is able to convert 120 Hz signals to 240 Hz by controlling the blinking of the LED backlight using its Turbo 240 technology. The monitor also promises a response time of less than 1 ms providing smooth image playback. The display also uses a vertical alignment LCD panel providing wide viewing angles of 176-degrees and a native contrast ratio of 5000:1. The native resolution of the screen is 1920 x 1080.
Eizo says that high contrast ratio provides increased visibility in dark areas making it easier to spot enemies. The monitor has two different color modes with one aimed at first-person shooter games and the other a real-time strategy games. The screen includes multiple connectivity options with HDMI, DisplayPort, and DVI-D connectivity. It also has integrated USB hub with one upstream port and two downstream ports. The Foris FG2421 is available now at an undisclosed price.
SOURCE: Eizo