Eigenharp Alpha and Pico: World's weirdest musical instruments?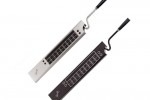 I have seen some weird musical instruments in my day, like those giant horns those dudes in the Ricola commercials blow, but the Eigenharp may well be the strangest of them all. The Eigenharp comes in two versions the Alpha and the Pico. At first glance I can't really tell if it's a wind instrument or some sort of stringed doohickey.
The Alpha (seen in the gallery below) is a serious instrument, in price anyway, that sells for about £3,950 while the Pico in the picture above sells for a much more reasonable £349. Now that I look at the Pico version, I believe I saw that fat blue alien playing one in the Mos Eisley Cantina.
Both of the instruments have keys, a breath pipe, a strip controller and have native sound sets, whatever that means. They connect to computers via USB 2.0 and can play SoundFonts and Audio Unit/MIDI instruments. PC music geeks hoping to grab one of these things, they are both Mac only at the moment. The much more expensive Alpha model has a mic input/preamp and a base station that can have pedals plugged into it.
[via Musicradar]