Ego! Smartmouse works on the desk and in the air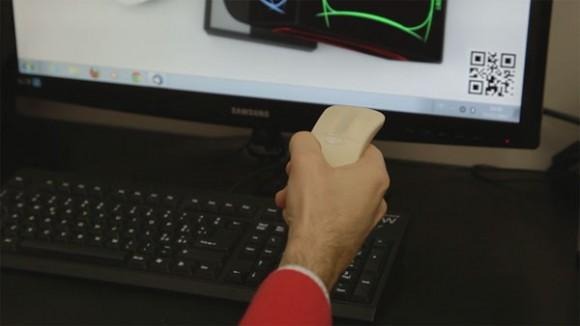 When it comes to computer input devices, there are a huge number of mice and keyboards out there. The sheer variety of computer mice available is incredible and one mouse may not do everything a computer user wants it to. Some people need a mouse for the office, a mouse for on the go, a mouse to use from across the room, and a mouse to use on the couch.
A new mouse is on Kickstarter called the Ego! Smartmouse and it looks like a single mouse that can do just about anything you might want a mouse to accomplish. You can use this mouse on the surface of your desk like you would any other mouse for controlling your computer pointer. You can also pick the mouse up, walk across the room, plop down on the couch and use the Ego! Smartmouse in the air like a 3-D pointing device to control multiple computers and devices.
The little mouse can even be used as a portable game controller for gaming from across the room. The mouse runs the Linux operating system and has an internal 400 MHz ARM-9 microcontroller. The mouse also has up to 4 GB of integrated memory along with a number of sensors including an accelerometer, gyroscope, compass, and an optical mouse sensor.
Wireless connectivity for the mouse is handled by an integrated Bluetooth chip. Other hardware features for the mouse include a VGA resolution camera, touch surface, a vibration motor, and LEDs. The mouse uses a lithium polymer rechargeable battery that gets power via a micro-USB port. I told you this mouse could do just about everything. Check out the video below to get a better idea of everything you can accomplish with the Ego! Smartmouse. The Kickstarter project is seeking £20,000 and has so far raised £14,249 with 36 days to go.
[via Kickstarter]