Eero wants to create mesh network for your home WiFi needs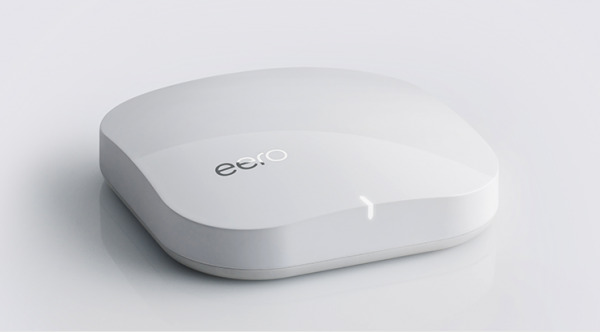 However the FCC rules on Net Neutrality (we hear you'll like the outcome), we're sure most people consider their home Internet a utility. Connectivity is crucial to thriving in society, as we've migrated our physical existence to the digital world. That's why poor WiFi, especially at home, is rage-inducing. A new startup, Eero, wants to change all that. Their small hardware, when positioned strategically around the home, cobbles together a range extender, repeater, and router into one device. By connecting more than one Eero, you're creating a mesh network, scalable to your wants. and needs.
Sounds simple enough, but Eero takes it a step further. The aim is user friendliness, to which Eero offers up simple connectivity and an app that will help you set your mesh network up for maximum results.
As most connected home gadgets do, Eero also lets you send invites, which can be accepted with a single tap. And, as most connected home gadgets do, Eero calls theirs a 'system'. Eero also promises to update itself automatically, leaving you to browse the web instead of downloading updates and waiting for the system to reboot.
Your 'hub' Eero will plug into your cable or DSL modem, and act just like a router. Once that one is set up, you can plug in additional Eeros throughout your home, and they'll link back to the main Eero, creating a stronger home network.
An intriguing concept, Eero also isn't cheap. On discount while they amass pre-orders, a single Eero will run you $125, while a three-pack sets you back $299. Once the discount is over, the pricing goes up to $199 and $499, respectively.
Still, Eero does some neat things. Easy network creation and invitations are neat, and the ability to push a better WiFi signal to the corners of your home is enticing. We'll have to wait for some hands-on time to find if it beats traditional top-end routers like the Apple AirPort Extreme.
Source: Eero
Via: Engadget