Edifier e25 Luna Eclipse Bluetooth speaker set brings 74 watts, available now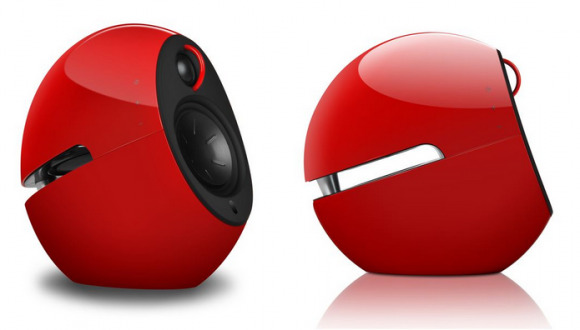 Edifier, maker of the Prisma Bluetooth speakers, has announced its newest product, the e25 Luna Eclipse Bluetooth speaker set. As with some of Edifier's other products, the Luna Eclipse speakers have a peculiar eye-catching design, and is accompanied by specifications that make the speakers capable in a variety of situations. The products are available now from Edifier US and Canada.
The speakers offer both Bluetooth connectivity for wireless devices and a wired 3.5mm auxiliary input for non-Bluetooth music players, including televisions. The volume and playback controls (standby, pause, etc.) are all touch-based on the side of the active speaker. Swiping can be used to toggle through tracks if the speakers are in Bluetooth mode, and for those times when you're not around the speakers, there's also a remote.
The bass drivers and tweeters have dedicated power and electronic crossover, as well as both DSP and DRC technology that helps keep distortion low when the volume is cranked up high. As far as hardware specifications go, the Luna Eclipse has 19mm tweeter and 3-inch full-range driver in each speaker — combined, the two speakers provide 74 watts of power. In addition to the driver and tweeter, each speaker also has two 3-inch bass radiators for improving the bass output of each unit.
The speakers measure in at 4.8 x 8.35 x 8.74-inches, which makes them small enough to fit on most bookcase shelves or on an entertainment system with a television. In addition to the red color featured in the image above, the Luna Eclipse is also available in black and white. The unit is priced at $199 USD and CAD, and is available from Edifier's website.