EcoQube's Desktop Ecosystem Brings Zen To Your Work Day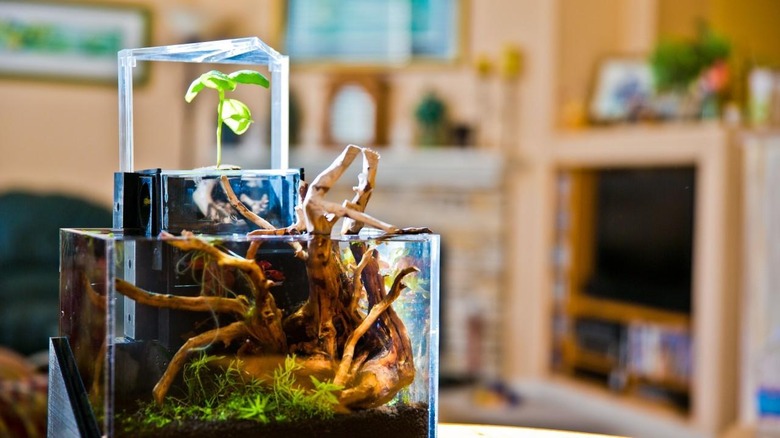 Aquariums can bring a little zen to a stress-filled day. It's relaxing to watch the little fish bubble about, but no one gets that same serenity from cleaning the scum off of a cloudy fish tank. Introducing EcoQube-C, the second generation EcoQube by Aqua Design Innovations. EcoQube-C wants to be "your window to nature," with its maintenance-free desktop aquarium. There are no filters to clean and no need to skim muck from the pebbles. The tank even grows its own stalk of basil. Its successful campaign on Kickstarter means that you'll be able to get fresh herbs and a scenic aquarium in one desktop package.
EcoQube is more than just a fish tank, it's a living ecosystem with three stages of filtration built into the device. To filter all of the waste created by fish, first a sponge mechanically filters the water. Then, bacteria biologically process waste which is chemically absorbed by the plants as fuel. According to the designers, as the plant grows larger, the ecosystem gets even cleaner.
The watery wonder comes with a fairly reasonable price tag, ranging from a sold out $39 early bird special to a $98 fully loaded tank. Its price is one of the reasons why it's having such a successful campaign on Kickstarter. EcoQube is blowing it's modest $15,000 goal out of the water with almost $250,000 pledged so far. The cheapest early bird specials are gone, but you can get a complete EcoQube-C for $59 or a set of two for $78.
The designers have a much bigger dreams for their technology. They hope to use EcoQube as a means to spread the word about sustainable aquaponic gardening. Yet, I'm a bit concerned that if the EcoQube isn't set up properly, it would just end up another smelly fish tank.
Source: Kickstarter