Easy-Dok CR34 alarm clock can charge six devices at once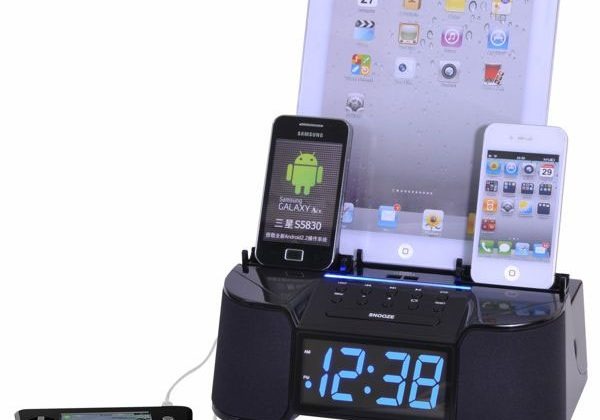 I've had an alarm clock sitting on my nightstand for years that can charge one device at a time. If my iPad is charging, I have to use a cable from the outlet to charge my smartphone. If you have multiple gadgets and want to be able to charge them all at the same time, what you need is the Model CR34 from Easy-Doks.
This device is alarm clock the large digital readout that also has an AM/FM tuner inside. The big draw is that the clock is capable of charging up to six gadgets at the same time. Three of those devices can be charged using the embedded cradle on top of the alarm clock.
The other devices are charged via USB cables and those cables can be sorted using a cable routing system on the back of the clock. The clock provides plenty of charging power for smartphones, tablets, and MP3 players. The device uses smart current detection technology and has built-in surge protection.
The large digital clock numbers are 1.2-inches tall and all the controls for the radio and clock functions are digital. If you want to listen to music from one of your devices, it does have an auxiliary 3.5 mm input. The clock also has a battery backup using a pair of AAA batteries in case power goes out. The Model CR34 is available now for $99.99.