EA's Skate It! is now available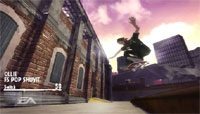 If you're big into skating games, then you'll be pleased to know that EA Games has just announced their Skate It! game for the Wii and Nintendo DS is now available to buy at a store near you.
The game lets you perform all sorts of skateboard moves just by flicking around the Wii Remote or by using the stylus on the DS. One particularly cool thing about the Wii version, however, is that you can use the Wii Balance Board to control the skateboard within the game. That definitely brings an element of realism to it.
The object of the game is to become Thrasher Magazine's Skater of the Year. Sounds funny, but might also actually be kind of fun. At the very least, this skate-focused game further brings in a sporty feel to Nintendo consoles.