Earthworm Jim Is Making A Comeback, But Not How You Might Expect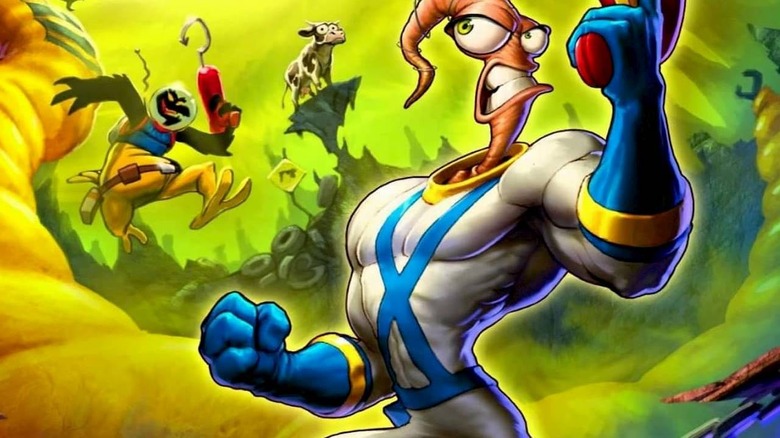 Earthworm Jim is one of those classic franchises that was popular in the 1990s but went dormant as we moved into the new millennium. Aside from remakes and re-releases of older games, we haven't seen a new Earthworm Jim title in 20 years, though that's all going to change soon. Earthworm Jim, it was announced today, will be making a comeback, but the circumstances of this revival might come as a surprise to some folks.
Intellivision revealed today that this brand new Earthworm Jim video game will be developed for the company's upcoming Amico console. The Intellivision Amico was first revealed last year by Tommy Tallarico, the CEO of Intellivision Entertainment. Tallarico's goal with the Amico is to "bring social fun back to the living room," and one way to do that is by reviving classic franchises that many people remember from childhood.
In its announcement today, Intellivision said that it has "gathered together and reunited the original Earthwork Jim team" for this new game, which is a pretty exciting prospect for people who enjoyed the original Earthworm Jim titles. It'll be exclusive to the Amico too, so don't expect to see it come to other platforms.
That's all we're getting for now, but Intellivision will reveal more about the game in just a few days. On May 4th, the company will host a 20-minute livestream on YouTube and Twitch, which will give us a look into the first design meeting between this reunited development team. That means we won't see any gameplay, but we will get to "hear their new vision firsthand."
While this might be exciting for anyone who loved Earthworm Jim, we have quite some time to wait until the game is actually here. The Amico won't even be out until October 10, 2020, and we don't know if this new Earthworm Jim game will be launch title. So, at the very least, Earthworm Jim's new adventure is a year-and-a-half away, and it might even be further out.