EA Sports shows off FIFA Soccer 13 and Madden NFL 13 for Wii U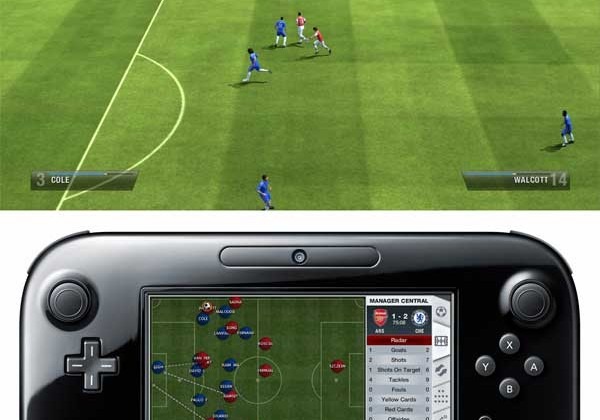 I'll admit I'm not very interested in the thought of the Nintendo Wii U. I blame the original Wii for that because I actually waited in line to buy one of those consoles only to find it very boring after a few months of use when the novelty of motion controls wore off. The Wii now sits unused in the entertainment center while the PS3 and Xbox 360 get hours of use each month (ok each day).
I'm also not a big fan of sports games. I prefer to play video games based on things I can't do in real life, like run from the cops or frag noobs. EA Sports has shown off FIFA Soccer 13 and Madden NFL 13 for the Wii U and the games look very interesting. As you can see in the image here, EA is showing off how exactly the games will work with that fancy LCD equipped controller the Wii U boasts.
The portion of the game on the Wii U controller reminds me a lot of the coach's clipboard while you watch the actual soccer action on the screen. While there's no image for Madden 13, I will assume that the LCD screen on the controller will be used in much the same way. I can definitely see fans of sports video games opting for Madden 13 on the Wii U to get that secondary LCD screen.
EA Sports says that on FIFA 13, the player can use the GamePad touchscreen in the ball on set pieces in penalty kicks. In Madden 13, the touchscreen allows players to streamline play calling, make pre-snap adjustments, and manage team personnel. Would these touchscreen features make you more likely to buy sports games on the Wii U rather than another game console?