EA Sports FIFA Soccer 11 Lands on the iPhone and iPod Touch [Video]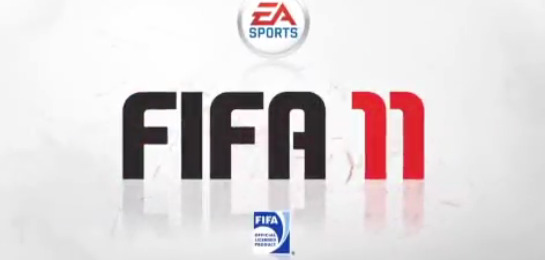 EA Mobile, part of Electronic Arts Inc., officially announced the availability of their latest title in their epic lineage of soccer titles, EA Sports FIFA Soccer 11. Keeping up with the tradition of their previous releases, EA Mobile is stepping up the playing field, as they've included the previous features that fans have grown to love, but also thrown in plenty of new things that players will welcome with open arms. EA Mobile says they've unlocked the horse power of the iDevices they are available on, delivering an engaging and genuine soccer experience, right in your hand.
EA Sports FIFA Soccer 11 now features 500 licensed teams, over 30 offiicially licensed leagues, more than 15,000 players, and 35 authentic stadiums for you to play in. The new title now includes a new dual-control option, which lets players control the ball with a level of sophistication, and simplicity, never before seen. The company is priding themselves on the fluid animations you'll see in the title. Players will get to choose between two modes: picking your favorite team and combating against the entire league, or heading into a tournament knockout.
You can pick up EA Sports FIFA Soccer 11 right now in the iTunes App Store. It's compatible with the iPhone 4, iPhone 3GS, and the iPod Touch line-up. You can buy it for $4.99. Check out the full press release below for more information.
Press Release
GOAL! EA MOBILE SCORES WITH FIFA SOCCER 11

FOR IPHONE AND IPOD TOUCH

EA's FIFA Soccer 11 Now Live in the App Store

Redwood City, Calif. – September 30, 2010 – EA Mobile™, a division of Electronic Arts Inc. (NASDAQ: ERTS) and the world's leading mobile games publisher, announced the availability of EA SPORTS™ FIFA Soccer 11 in the App Store™. The popular soccer franchise features over 30 officially licensed leagues, 35 authentic stadiums, 500 licensed teams and more than 15,000 players from around the world for thunderous matches on the iPhone and iPod touch.

"With FIFA Soccer 11 for iPod touch and iPhone, we have tapped into what makes this game so universally loved delivering an engaging and genuine soccer experience for fans and casual players alike," said Travis Boatman, Vice President of Worldwide Studios for EA Mobile. "With the latest release of FIFA, we've unlocked the horsepower of these new devices, stepped forward the expectation of what can be achieved and delivered the best footy experience out there."

FIFA Soccer 11 features new dual control options providing gameplay sophistication for veterans and simplicity for casual players. The game features unprecedented ball-control and fluid animations with 360° player movement while gesture-driven skill moves dazzle the opposing team with defense-splitting passes, rifling shots, penalty kicks and pro-style tricks.

Players can also pick between two modes, either electing to play as their favorite team and battle the entire league or trying their luck in a tournament knockout. FIFA Soccer 11 features officially licensed teams and the world's best players enabling gamers to play with their favorite superstars including Real Madrid's Kaká and Manchester United's Wayne Rooney.

FIFA Soccer 11 is available today from the App Store for iPhone 4, iPhone 3GS and iPod touch at www.itunes.com/appstore/ . Assets and additional press information can be found at http://info.ea.com .

EA Mobile has a solid reputation for its pioneering and market leadership in mobile gaming, and has been a definitive player with the rise of Apple devices as gaming platforms. Popular games include SCRABBLE, Tetris, MONOPOLY and BATTLESHIP, which have consistently ranked among top sellers and, in 2009, The Sims® 3 was the #1 best-selling game on the App Store. For more information about EA Mobile, please visit www.EAMobile.com , join us on Facebook at www.facebook.com/EAMobile or follow us on Twitter at www.twitter.com/EAMobile .

EA SPORTS™ is one of the leading sports entertainment brands in the world, with top-selling videogame franchises, award-winning interactive technology, global videogame competitions and breakthrough digital experiences. EA SPORTS delivers personal access to the emotion of sports through industry-leading sports simulation videogames, including Madden NFL football, FIFA Soccer, NHL® hockey, NBA ELITE basketball, NCAA® Football, Fight Night boxing, EA SPORTS MMA, Tiger Woods PGA TOUR® golf, and EA SPORTS Active.

###

About EA Mobile

EA Mobile™ is the world's leading wireless entertainment publisher with award-winning games such as Tetris®, Bejeweled®, The Sims™, and Need For Speed™. The EA Mobile portfolio also includes casual games based on the company's partnership with Hasbro, Inc. including MONOPOLY, YAHTZEE and SCRABBLE (in the U.S. and Canada) as well as sports blockbusters from the EA SPORTS™ brand, including Madden NFL Football, FIFA Soccer and NASCAR®. EA Mobile develops games for multiple mobile platforms including mobile phones, smartphones, the iPhone®, iPad™ and iPod®. For more information about EA Mobile, please visit www.eamobile.com