EA Announces Downloadable Co-Op Demo For Army Of Two The Devil's Cartel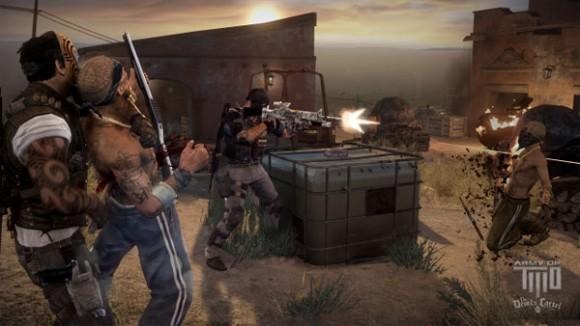 EA has announced that there will be a new downloadable co-op demo available for Army of Two The Devil's Cartel. The downloadable demo will be available on March 12 for PlayStation 3 and Xbox 360 gamers. The Devil's Cartel is the second game in the Army of Two franchise and is designed to celebrate cooperative game play.
The demo will be available to download via the Xbox Live Marketplace and the PlayStation Network on March 12. The game will put players into the boots of private military contractors Alpha and Bravo. The goal of the game is to rescue a kidnapped politician.
The heroes of the game have to battle cartel members and work together to survive. The gunfights will take place in a range of environments including a drug lab and on the rooftop of a high-rise building among others. This game will also see the cooperative players split up and points with one mission having one player running to battle face-to-face and the other in a helicopter using a mini gun to provide cover.
The game also features a new Overkill feature with huge explosions providing massive destruction that promises intense action. The game will officially launch on March 26. EA says that the Overkill Edition is available for pre-order at participating retailers. This version of the game brings exclusive masks, outfits, a co-op contract mission, and deadly weapons. The game will feature online and split screen co-op action.
[via Army of Two]