Dyson Lightcycle Morph offers personalized light with daylight tracking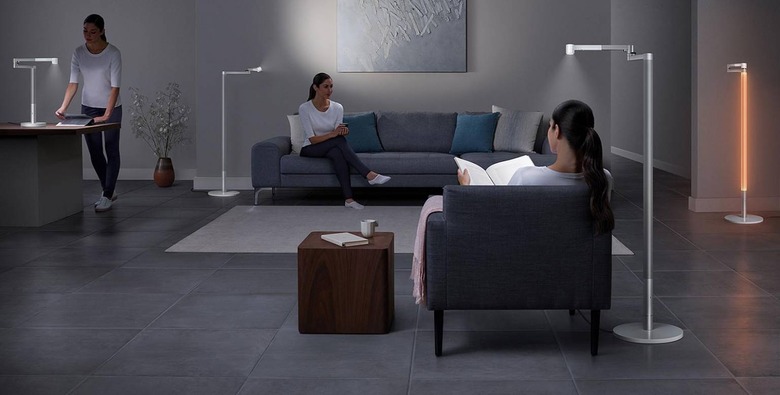 Dyson has unveiled a new type of lamp called the Dyson Lightcycle Morph that features four formats and the ability to track the customer's local daylight hours. The lamp works with a related mobile app and is described as intelligent; among other things, it adjusts the light it emits based on various factors including the current daylight level and the user's age and mood. The model features Dyson's Heat Pipe tech and more.
Unlike most lights, which are designed for a specific type of use, the Dyson Lifecycle Morph can be used in one of four different modes: Ambient Light, Task Light, Feature Light, and Indirect Light. Each mode name refers to the general usefulness of each mode — Ambient Light, for example, produces a warm candle-like glow that reduces pesky blue light.
The Indirect Light mode, meanwhile, utilizes the lamp's 360-degree smart optical head to rotate the light, making it bounce off the ceilings, walls, and floors. The Feature Light mode is for highlighting items like art while the Task Light mode is for getting stuff done — delicate crafts and similar work. The light works with the Dyson Link App for personalization.
The light features an aluminum-polycarbonate stem that the light can travel down thanks to a 'highly reflective surface.' Among other things, Dyson says its new lamp is high-impact resistant and is capable of offering light so warm that it emulates candlelight. Overall, Dyson says its customers can expect 60 years of light quality due to the use of LEDs and the lamp's unique design.
As for the personalization features, Dyson explains that its light and related software can adjust the light based on the needs of the user. For older users, the light will automatically make itself brighter, for example. As well, the app includes presets for things like 'Study' and 'Relax' alongside a manual control that enables the user to fine-tune the light's color and brightness level. Users are given the ability to program and name up to 20 additional light settings to meet their various needs.
Dyson currently offers the Lightcycle Morph as a desk model for $649.99 and as a floor lamp model for $849.99.