Dwayne "The Rock" Johnson smashes into mobile with an alarm app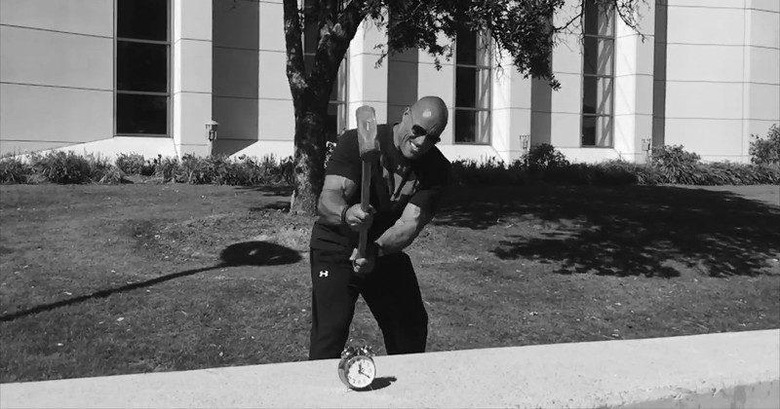 You might disparage his acting skills (and some might argue with you on that), but one thing no one will be able to deny is that The Rock is built like, well, a rock. And he probably didn't get that bod just by sitting on his posterior all day. Now The Rock, a.k.a. Dwayne Johnson, wants others to also achieve their goals, be that to get a great body or a great mind. And part of that mission apparently involves releasing The Rock's first mobile app, an alarm clock called, what else, The Rock Clock.
With dozens, probably even hundreds, of clock apps on both Android and iOS, you'll definitely need an edge to get noticed. The Rock's name, not to mention his ubiquitous face, might just do the trick for this app. At first glance, it's like any regular alarm clock, letting you set the time when to be notified as well as the alarm tone. Things, however, start to get crazy from there.
The alarm tones are definitely not your usual clips, ranging from adorable kittens to The Rock himself doing is best impersonation of an alarm. They are highly amusing, though it's probably questionable whether they would be enough to really get you out of bed. It probably helps that this clock has no snooze button.
The app does have other Dwayne-centric features, like receiving "exclusive" inspirational messages from The Rock himself (right) and even syncing your own alarm to his, so that you wake up whenever he does (right). That might be a problem for those living, or sleeping, on the other side of the world.
It has one rather annoying trait, however. In order for it to work, you'll need to keep it open, which means you'll have to be sure it's the last app you touch before you fall unconscious in bed. Hopefully it's just some oversight that will be corrected later on.
Jokes aside, The Rock Clock is actually just the second project in Dwayne Johnson's more or less serious endeavor, Project Rock. It's his personal project to help other people reach their goals. Other than this clock app, the Project's other product was a bag. But while The Rock Bag is already sold out, the Rock Clock can be downloaded for free from Google Play Store and iTunes App Store.
SOURCE: Project Rock