Duracell Plans on Making a Lasting Impression With New Smart Power Line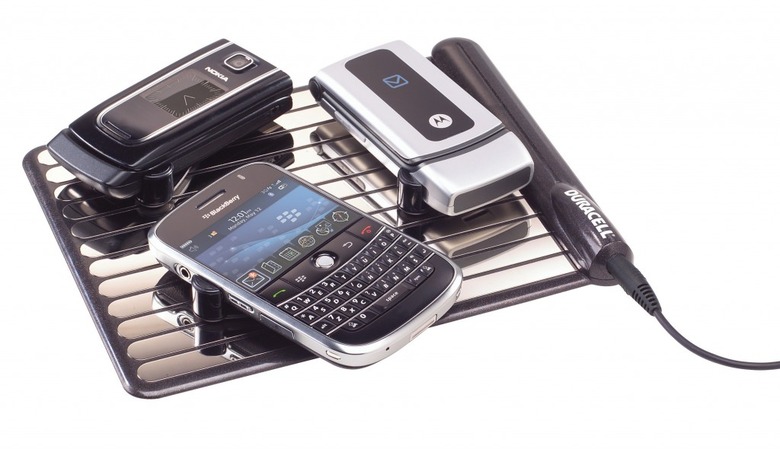 Duracell launched something new today, and we're pretty sure you'll be excited about it. It's called the Duracell Smart Power Initiative, and it's broadening the company's outlook on life, and what you can spend your money on. While the needs of consumers change, especially the way that they power their electronics, Duracell realized that they needed to change too, and it's looking like they are on the right track. They've come up with some pretty handy stuff, and while it's not necessarily revolutionary for the times, it is for the company. And plus, the mobility it provides may just be attractive enough to entice some long-term commitments. We're definitely ready to tie the knot.
"Duracell Smart Power is an evolution of Duracell's heritage that builds upon the reliability and performance that our batteries have and will always deliver. This initiative will serve as an important lens for future product innovation as we expand the breadth of our offerings to address the evolution of personal power," said Rick June, Duracell Vice President and General Manager, North America. "Our new personal power solutions allow consumers the freedom to live their lives without the limits of staying tethered to today's power grid.  It is charging made simple."
The Duracell MyGrid charging pad — Consumers can enjoy a better daily charging experience with this device that eliminates the mess of multiple cords by simultaneously charging multiple devices, such as cell phones, MP3 music players or other mobile devices. Once the charging pad is plugged in, your devices can go cordless. By simply fitting a device with a Power Sleeve™ or Power Clip™, you can drop your device on myGrid™ and go.The Duracell Instant Charger — This compact Lithium Ion Rechargeable charger provides reserve power for popular mobile devices, such as BlackBerrys, iPods and cellphones that come with USB power cords. A USB-to-mini-USB cord is included. Mobile users can now enjoy up to 35 hours of additional power that is efficiently managed with an on/off switch.The Duracell Powerhouse Charger — Provides reserve power for consumers' most critical devices, including any cell phone, PDA or MP3 player that comes with a USB power cord or can connect to the Powerhouse's mini-USB arm. Powerhouse also comes with a USB-to-mini-USB cord and features an on/off switch for power conservation, making it a must for today's frequent travelers.The Duracell Pocket Charger — A pocket-sized, supplemental Lithium Ion Rechargeable power source works with all USB-powered cell phones. Pocket Charger provides convenient power when a cell phone battery dies and the owner is away from the traditional outlet for recharging. The Pocket Charger offers cell phone users up to 60 percent more talk time and includes a mini-USB charging arm as well as a USB-to-mini-USB cordThe Duracell GoMobile — The Energy Star-certified GoMobile delivers a charge to AA or AAA NiMH batteries in just one hour. Designed to fit in a car's cup holder, it also is designed to fit with home décor and comes with four Duracell Pre-Charged Rechargeable batteries that can be recharged hundreds of times while holding their charge for up to one year when not in use.The Duracell GoEasy — The Energy Star-certified GoEasy is compact enough to go where you go and charges up to two AA or AAA NiMH batteries. It comes with two rechargeable batteries that can be recharged hundreds of times.The Duracell Daylite LED Flashlight — Captures up to 100 percent of light to focus a brighter, whiter beam, while providing 5 times the battery life of everyday "incandescent bulb" flashlights. The Daylite series, initially introduced in fall 2008, now includes five new models with Daylite Tough flashlights, spotlights and headlamps.Pricing and Availability
The new Duracell myGrid™ will be available in the U.S. in fall 2009 for a suggested retail price (SRP) of $79.99. Packages will include a myGrid™ charging pad, Power Clip adapter and Power Clip tips for BlackBerry, Motorola and Nokia phones. Power Sleeves are also available for purchase separately for the BlackBerry Curve 8300 series and the Blackberry Pearl 8100 series. Additional Power Sleeves, Power Clips and Power Clip adapters have a suggested retail price of $34.99.
The three Duracell Lithium-Ion Rechargeables (Instant, Powerhouse and Pocket Charger) are available now at mass merchandisers, drug and hardware stores nationwide. Suggested retail prices are $19.99 for the Duracell Pocket Charger, $29.99 for the Duracell Instant Charger, and $49.99 for the Duracell Powerhouse Charger.
The Duracell GoEasy and GoMobile chargers can be purchased currently at major retailers, including drug, grocery and hardware stores nationwide and have a suggested retail price of $12.99 and $29.99 respectively.
The complete Duracell Daylite LED flashlight series is currently available at major retailers, including drug, grocery and hardware stores nationwide. Flashlights range from $14.99 to $34.99 SRP.
So, from what we can tell, Duracell is pretty much covering every base available to them, and banking on their copper-top name brand. If these devices can work as well as Duracell is hoping (and planning) on them to, then we'll be the first in line to pick these gadgets up. The ease of use provided by Duracell's upcoming line is almost too good to pass up, don't you agree?