Dual UHD 4K USB Docking Station adds two 4K screens to your laptop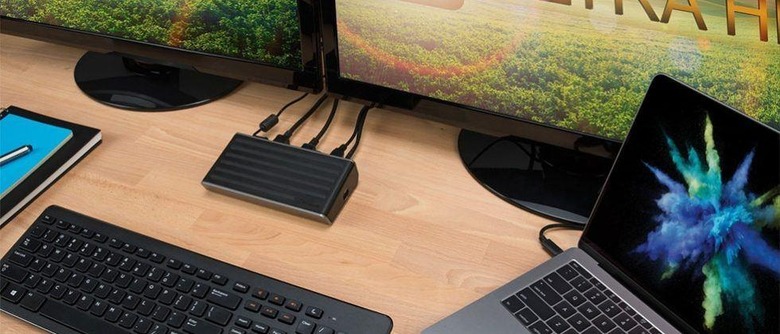 Targus and DisplayLink have teamed up for a new USB 3.0 docking station for laptop and desktop users that will support dual 4k monitors. The docking station is the Targus Universal USB 3.0 DV4K Docking Station (DOCK160USZ) and it will support up to 4096x2160 resolution via DisplayPort or HDMI.
"Being first to market with a dual 4K2K 60Hz solution was important to our customers and key to Targus driving forward as a leader in universal USB docks," said Ron DeCamp, Vice President, Global Product Management and Development at Targus. "Customers today demand flexibility, especially amongst the complexities of new technologies. DOCK160USZ is compatible with the installed base of standard USB 3.0 connections as well as USB-C (with a simple cable adapter, not included) for effortless connection regardless of the host platform for both end users and enterprise IT departments."
The dock has a 1m long cable and has a wedge design that supports an ergonomic typing angle if you want to place a keyboard on it. The chipset inside the docking station that runs the show is the DisplayLink DL-6950. That chip supports daisy-chaining via USB or can be expanded with DisplayLink USB video adapters. The Targus dock is priced at $249.99 and will launch on December 20.
"DOCK160USZ is a truly universal docking station that connects over any USB3 connection and makes connectivity planning and provisioning for IT simple, if it looks like a USB connector it will just work. With dual 4k 60Hz support for both DisplayPort and HDMI, this dock also has performance to spare."
SOURCE: Targus