Dual Antenna for Broadcast TV is surprisingly small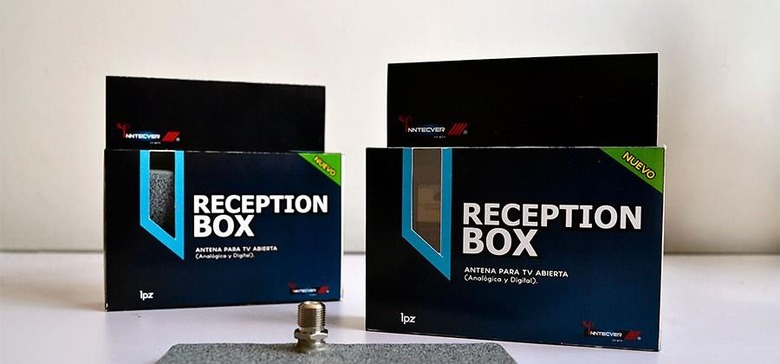 Researchers from the University of Morelos in Mexico have created a new and very small broadcast TV antenna that promises good TV reception in a very small package. The device is called the Reception Box and it is only 11cm L x 6.5cm W x 6mm thick and weighs in at 12 grams. Once the antenna is coated it is only 80g. The designers say that in parts of the US like California, the antenna could pick up the signal of 70 local channels.
In Mexico City, the antenna is able to pick up 28 different channels with 23 of them being unique channels that weren't repeats of the same content. When used outdoors the antenna needs orientation and a fixed spot on the ceiling without the need for large masts. The design is strong and resistant and can be used indoors as well. When used inside, it needs no attachment and can be connected to different TVs via a signal splitter.
"The idea came from applying new materials and new geometries, to create a smaller antenna in comparison to those that already are available. Advanced materials were tested and the design was based on an array of antennas and other elements, ie, is actually more than one antenna, " explains Dr. Margarita Tecpoyotl Torres.
The antenna needs no electricity to operate and has been tested by a large TV firm in Mexico with good results. "Globally we have not seen so small TV antennas, the nearest is 30 by 30 square centimeters. Due to the characteristics of our design, the patent was granted last year and now we seek business or an investment opportunity that allows us to mass produce it. Although the manufacturing is semi-craft, its cost is less than what the market offers after the analog switch," says Dr. Tecpoyotl.
SOURCE: Alphagalileo