Drumi cleans clothes with no power and little water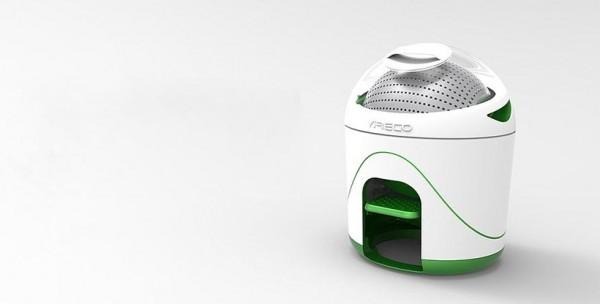 In most homes, a significant amount of water and electricity is allotted to operating washing machines and drying clothes. That's all fine and good in areas where there is plenty of water and reliable electricity. For people who want to go green and reduce electricity use while saving water, cleaning clothes can be done with an interesting new device called the Drumi.
The green Drumi is 22-inches tall and needs no electricity to clean your clothing. It also needs only 10 liters of water and a bit of detergent to clean five pounds of clothing, which is about six items. Users toss the clothes into the drum along with five liters of water.
The green pedal on the front is what agitates the clothing and it is pushed with the foot. After two minutes of pumping the pedal, the soapy water is released and the user adds five more liters of water for rinse. After the rinse cycle, the user releases that water and pumps another minute as a spin cycle to remove excess water.
Pumping the pedal turns a round drum inside the machine to tumble the clothes. Ten liters of water may seem like a lot for washing clothes until you consider that a normal washer uses about 27 gallons of water per load. The Drumi will sell for $129 and is expected to launch this summer.
SOURCE: Digital Trends