Dropbox Focusing More On IT With New Admin Console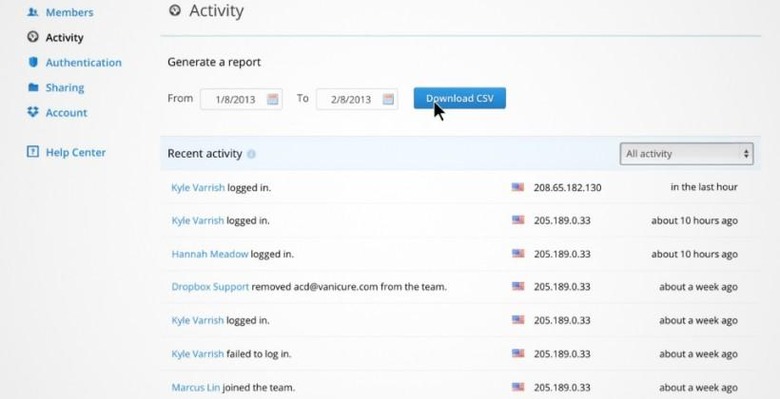 Dropbox has been all about the everyday consumer, but if you're needing a little more power out of your cloud storage, the company has what's called Dropbox for Teams, in which small businesses can share a pool of cloud storage in order to collaborate on projects and such. However, Dropbox has introduced a new admin console that takes things to a whole new level.
The new admin console is ultimately centered around two ideas: visibility and control. The new features offer improvements in both of these categories. For visibility, you can view recent activity, web sessions, linked devices, and third party apps for each member on the team. You can also get an overall activity chart for everyone on the team, and even download and print out handy reports of usage.
As for control, Dropbox now lets admins set sharing controls at the account level, meaning that you can determine which files are to be kept within the company, or let users decided what gets shared. You can also require that everyone enable two-step verification, just in case you want added security to your work, and there are options to remove users from the group in case they leave the company, and even send out password reset emails to users.
Essentially, Dropbox is making it easier for IT admins to manage the team and the company's files in an easy-to-use control panel. Plus, Dropbox never has any confusing settings, and always strives for user-friendliness, so while it's always good to have a knowledgable IT admin on staff, pretty anyone could run the admin console if need be.