Drone World DJI Osmo Bundle Kit Review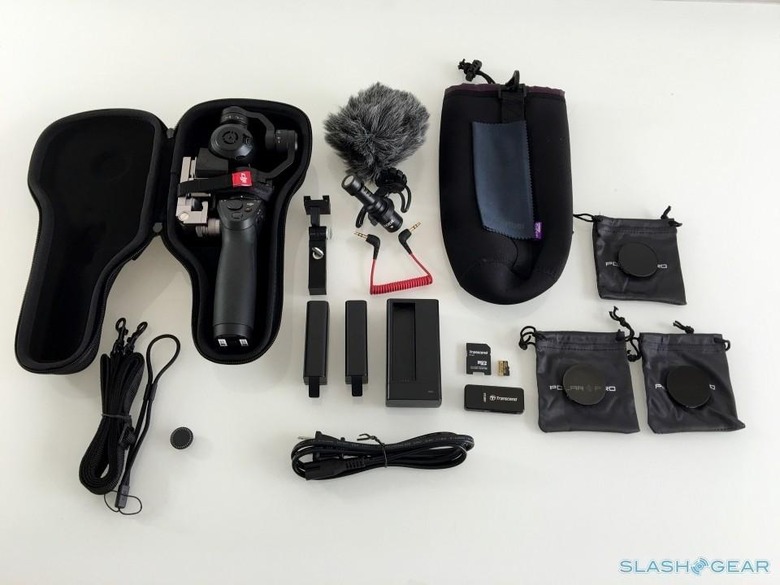 Capturing memorable moments, from sports action shots to a baby's first steps, has never been as accessible as they are today. But not all situations can be addressed by a camera drone. And definitely not everyone has steady hands. There are, of course, professional rigs available, but those are as likely to break your back as they will your wallet. DJI's new Osmo handheld rig offers a different answer, one that combines the excellent 4K Zenmuse X3 camera from its Inspire 1 drone with a stick that delivers full control, without the shaky movement. And Drone World's extends that promise even more with just the right accessories to supplement the camera where it is weakest.
The DJI Osmo
DJI might not be a name you would immediately associate with camera rigs. Their main products are drones after all. But when it comes to the subject of stabilization, it is pretty much at the top of its game, since you do need heavy duty mechanics to ensure blur-free footage from a drone's camera. DJI now takes the lessons well learned from that and applies it to perhaps its most unexpected product: a handheld steady cam.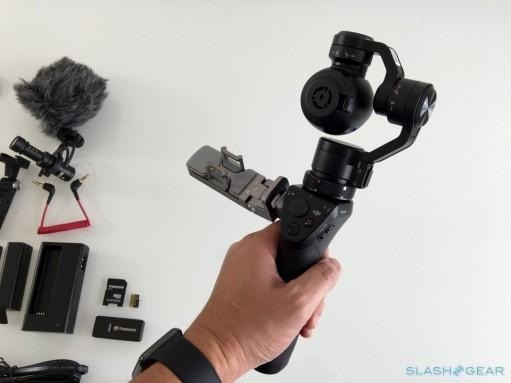 The Osmo itself is made up of three main parts, two if you consider the camera and gimbal as one piece. Naturally, the camera, by default a Zenmuse X3 (FC350H) is responsible for all the photography action. Those who have had a few brushes with DJI's Inspire drone might be already familiar with this particular shooter. A rundown of the camera's specs would reveal a shooter with an effective 12 megapixel count sensor from Sony, capable of 4K video recording. ISO range is 100 to 3200 for video, up to 1600 only for photos. It has a wide-angle lens and an f/2.8 aperture. It's not going to compete with DSLRs, that's for sure, but it excels in its field as an action camera.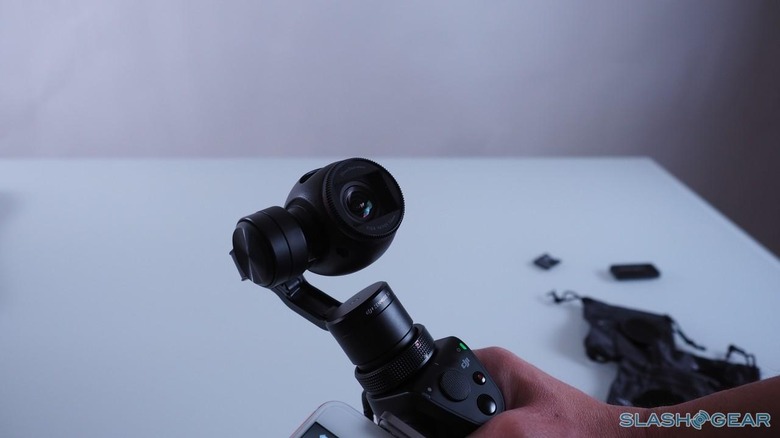 While the Zenmuse X3 camera itself is already capable, the real magic happens with the partnered gimbal. Somewhat similar but not completely identical to the gimbal on the Inspire 1 drone, it has been designed and modified with handheld use in mind, like subtle differences in the mechanical structure and accommodation of SD card storage. This is where DJI's experience and expertise shines brightest. It counters the effects of movement on all three axes through a combination of motors, sensors, algorithms, and a dedicated custom processor.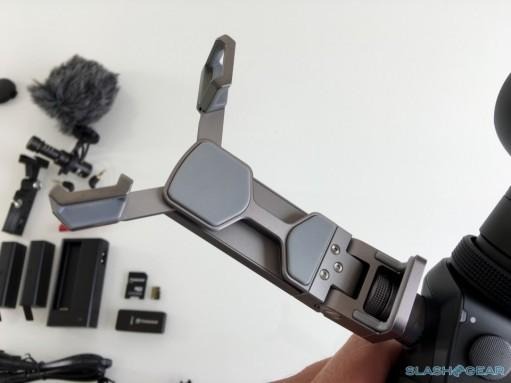 It might be easy to dismiss the handle as just that, but if the gimbal is what makes the magic possible, the handle is what turns the user into a photography magician. Aside from giving you a way to hold the Zenmuse gimbal and camera, it also lets you control almost all of the action. The handle has buttons and sliders for all basic functions ergonomically placed to be within easy reach. A joystick lets you manually control the panning and rotation of the gimbal while a trigger button lets you lock the camera into position, re-center it, or even turn the gimbal around for a selfie. It is also home to a detachable phone handler that you can use to further control the Osmo as well as to see what the camera sees.
All of these parts work together to deliver what could very well be the epitome of shake-free handheld video camera recording, as you can see in action below.
It should be noted that while the Osmo is actually compatible with the Zenmuse X5 and X5R, they do need adapters to work.
The Drone World offer: bundling perfection
As impressive as the DJI Osmo may be, it is hardly perfect. Even those with glowing review seem to agree on a few pain points with the handheld contraption. While DJI might be listening, there doesn't seem to be any indication that it will address those concerns any time soon. Fortunately, Drone World has come up with a bundle that helps fix those imperfections, and then some.
The Zenmuse X3 camera and gimbal might be great for taking photos and videos but it seems that the consensus is that it is terrible at doing sound. The recorded audio is just too soft or low and practically negligible. Luckily, the Osmo does have a 3.5 mm port for an external microphone. And thank the lucky starts, Drone World is throwing in a high-end Rode microphone to make up for that weakness. Even better, there's also a cold shoe mount for it. Audio recording? Check!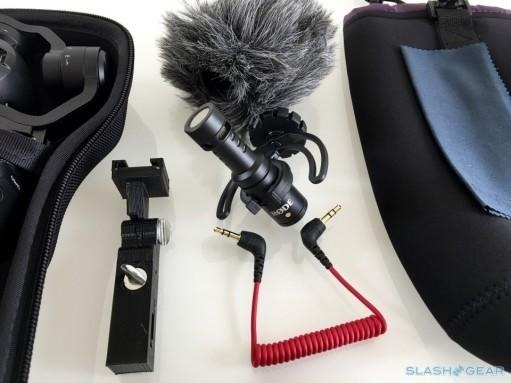 DJI isn't beating around the bust when it comes to the Osmo's camera life. With all the motors and sensors, plus Wi-Fi for smartphone connections, the Osmo reaches only 60-minutes of battery life. That is definitely a disappointing two-digit number that we wish we could fix with a better solution. In the absence of that, Drone World is providing an extra battery in the package. So that's twice the battery and therefore twice the fun.
With the 4K recording capabilities of the Osmo, you can expect that the 16 GB microSD card it comes with will be filled up really quick. And since you can't directly record those videos to a paired smartphone, you'll need a high-speed extra storage card. And again, the bundle comes one. In fact, it's a Class 10 633x 32 GB microSD card, twice the capacity that the DJI Osmo ships with. There's even a USB 3.0 Card Reader to make short work of transferring photos and videos from card to computer.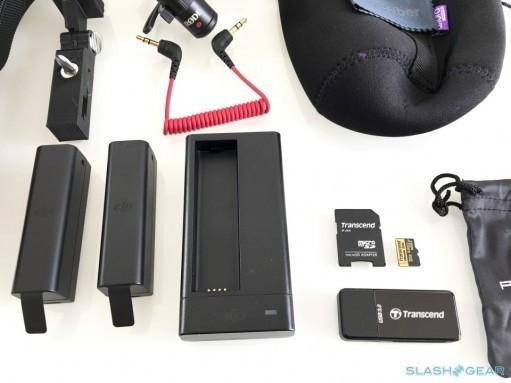 Drone World's bundle offer comes with a lot more goodies that supplement and enhance the experience of using and carrying around a DJI Osmo. For example, the Waterproof Caring Case adds extra protection for the Osmo that you conveniently clip on your belt for almost instant access. There are also three Polar Pro 3 lens filters, namely the CP, 3&4, and Stop ND's, for additional effects.
Wrap-up: Photography magic in your hands
GoPro has formally declared open war on its former allies by entering into the drone business with the upcoming Karma. But while GoPro is venturing into a quickly saturating market, DJI has found fresh new land to conquer, and it seems to have already started off with a bang. The DJI Osmo is returning the power and control of recording dramatic action, or even just dramatic, once in a lifetime moments, from drones back to our hands.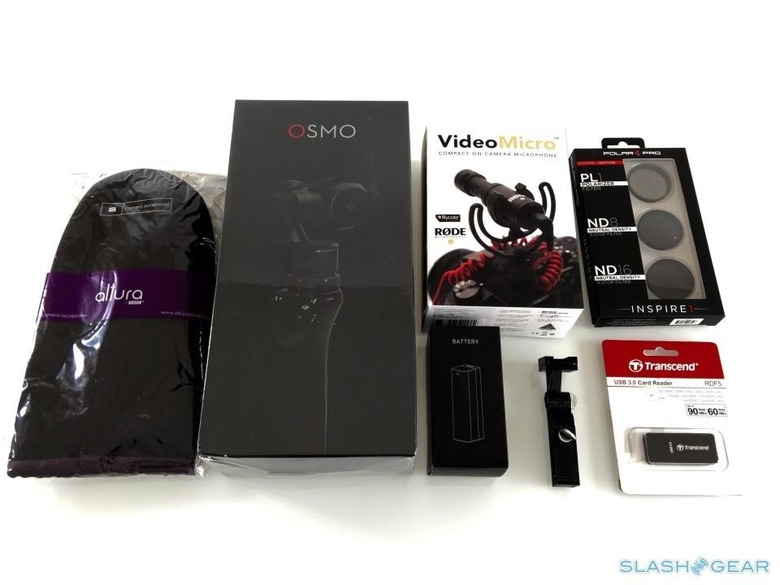 And Drone World's DJI Osmo Bundle is adding even more power into our hands, by supplementing the Osmo where it is weakest but without taxing our wallets even further. The DJI Osmo is no cheap kit, carrying a price tag of $649, but for the budding professional action photographer, it's an investment worth every penny. Drone World's bundle ups the price just a wee bit to $899 to transform the Osmo into a well-balanced, well-rounded action camera. It is an offer anyone considering buying an DJI Osmo should consider grabbing. Disclosure: Drone World sent SlashGear the the DJI Osmo Bundle Kit to review.
[gallerybanner p="418583"]