DROID X2 Review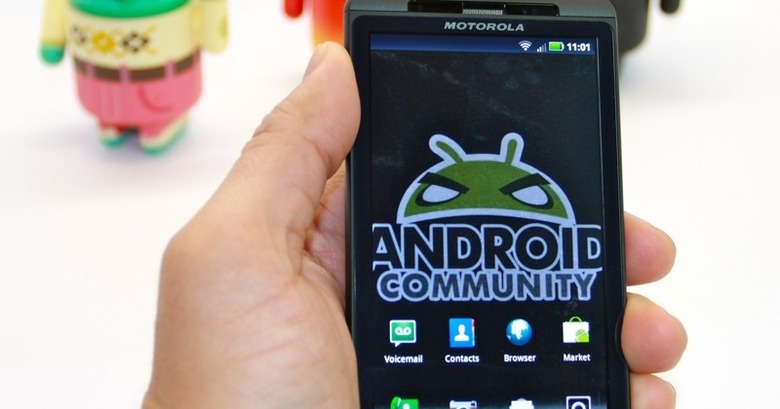 For a while, Motorola's original DROID X on Verizon led the pack. Offering a big screen, a big camera and a slender chassis, it helped drive the race toward oversized Android handsets that has led us to the Galaxy S II, Infuse 4G and Sensation. Now comes the Motorola DROID X2, boosting screen resolution and throwing in a second processor core, but wrapped up in the same sober suit. Has the company done enough to keep the DROID X2 topical, or is this sequel a flop? Check out the full SlashGear review after the cut.
Hardware
Powered-off and side-by-side with the original DROID X, and beyond the color – dark gray initially, now black – you'd be hard-pressed to tell the difference between it and the DROID X2 at a casual glance. Measuring the same 5.02 x 2.58 x 0.39 inches and weighing the same 5.47 ounces, the soft-touch black chassis follows Motorola's "blunt and aggressive" school of design and looks good for it. We could do without the bloated camera section on the back, though, which protrudes a little more than is comfortable.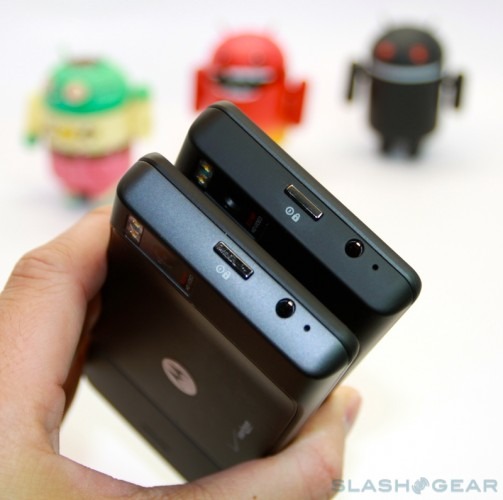 Turned on, and the DROID X2's first advance is clear. As on the HTC Sensation, Motorola has used a qHD 4.3-inch panel running at 960 x 540 resolution, versus the 854 x 480 of the DROID X. It's a regular LCD panel rather than anything fancy like Super AMOLED, but it's bright and clear nonetheless, only coming unstuck in direct sunlight outside.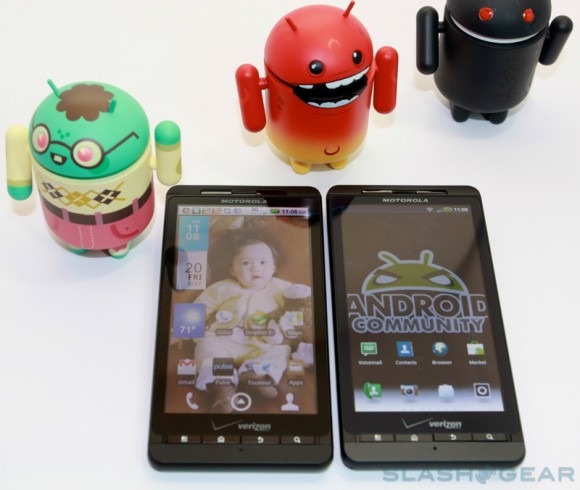 Underneath there are four physical buttons – menu, home, back and search – while above are proximity and ambient light sensors. No front-facing camera, though, leaving you with just the 8-megapixel autofocus camera (with dual-LED flash) on the back. Oddly, Motorola has deleted the dedicated camera shortcut button. Despite the extra grunt from the dual-core processor, as on the original DROID X, the X2 can only shoot 720p, rather than 1080p Full HD.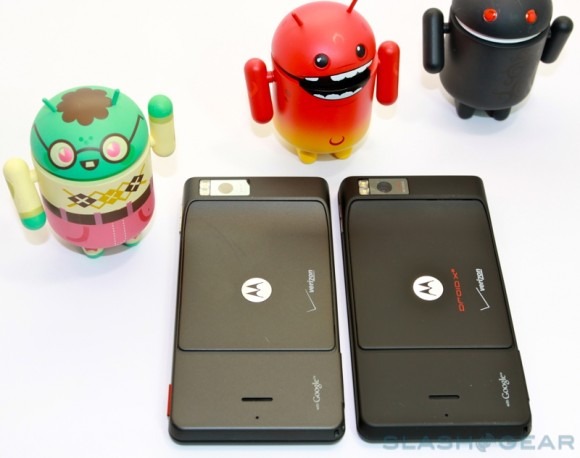 As in the ATRIX 4G, Motorola has turned to NVIDIA and the 1GHz Tegra 2 to keep the DROID X2 ticking, pairing the chip with 512MB of RAM. That's the same as in the original version, but half of what the ATRIX gets. Connectivity falls short too: there's EVDO Rev.A but no LTE to take advantage of Verizon's speedy 4G network. Similarly absent is Global Roaming support, which means the DROID X2 is limited to CDMA networks and can't use the GSM/HSPA networks common in Europe and Asia. Still, you get WiFi b/g/n and Bluetooth, both microUSB and microHDMI ports – the latter offering screen mirroring on your HDTV – and a microSD card slot to augment the 8GB of internal storage.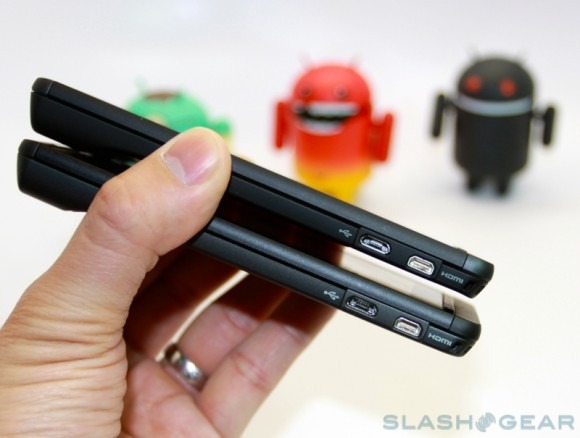 Software and Performance
Motorola updated the original DROID X to Android 2.2 back in September 2010, and it seems the company isn't willing to give up Froyo quite yet. The DROID X2 launches running the outdated version of Android – rival phones are shipping with Gingerbread – along with the custom MOTOBLUR-inspired UI.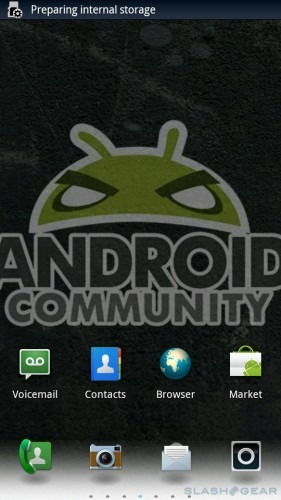 That's been tweaked a little since we saw it last, with the addition of categories in the applications menu – All Apps, Downloaded and Recent – as well as the ability to create your own to group together themed apps. There's also a helicopter view of all seven homescreens just like in HTC Sense. The resizable widgets are carried over, and there's a persistent four-icon launcher along the bottom of the homescreen (which can obviously be customized).
Social networking is catered for with a pair of homescreen widgets and a standalone app, pulling in Facebook and Twitter updates and allowing you to set your own status on both simultaneously. Verizon preloads its V CAST Music and VZ Navigator apps, along with the Blockbuster movie rental apps, while Motorola adds the Kindle app, Skype, Slacker and Quickoffice. Need for Speed Shift and Let's Golf 2 make an appearance in trial form, as on other Tegra 2 devices we've seen.
It all works, but we'd gladly sacrifice MOTOBLUR for stock Android 2.3.3. Motorola has said a Gingerbread update is in the pipeline, but not committed to a release timetable as yet. As the Android Market continues to grow, and the core OS itself gains more abilities, manufacturers need to offer more than token modifications to make a good argument for customizing software. We've a strong suspicion that most DROID X2 owners will end up bypassing Motorola's Twitter and Facebook support in favor of more functional third-party alternatives, for instance.
As for performance, we're used to seeing decent benchmarking figures from the Tegra 2 and the DROID X2 follows suit. In Quadrant Advanced, it scored 2743 overall (with 7241 in CPU and 2846 in I/O), more than double the DROID X's 1353. SmartBench 2011 brought in scores of 2775 for the X2 and 844 for the X; impressive, but still lagging behind the overclocked 1.2GHz goodness of the Galaxy S II, which managed 3830. Finally, in the SunSpider JavaScript test, the DROID X2 came in at 4182.2ms versus the DROID X's 7596.5ms (lower is better).
Camera
Motorola promises faster camera performance with shots being grabbed faster on the X2 than on the original DROID X, even without the dedicated shortcut key. In practice we noticed things were a little more responsive, but only as long as you had decent lighting. Once things got a little darker, the lag between tapping the screen and the frame being captured increased, resulting in some underwhelming photos that lacked the crisp focus we were hoping for. Colors were bland and stills often grainy; the dual-LED flash is one of the more powerful we've seen, though.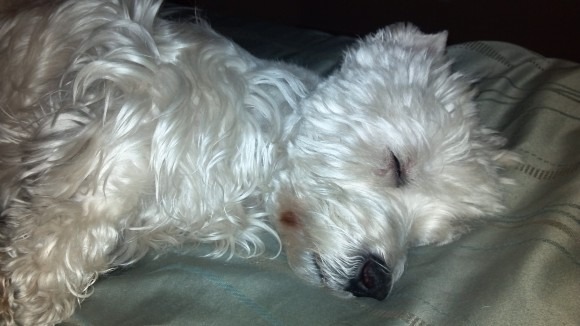 As for video, just like the ATRIX 4G, Motorola has limited the DROID X2 to 720p rather than Full HD recording, despite the Tegra 2 being capable of the higher resolution. Footage is good, as long as you move the phone smoothly to avoid tearing on faster pans. Exposure adjustments are swift and there's plenty of detail, though occasionally we noticed some hiccups in the eventual clip as if the DROID X2 was having issues writing to memory. You can play back clips directly via the HDMI connection, or upload them from the phone to YouTube for online sharing.
Phone and Battery
With many smartphones seemingly forgetting that users do still make voice calls rather than just game, browse and message, we were pleasantly surprised by the DROID X2's in-call audio performance. Background noise was minimal and neither we nor the people we spoke to had any problems with glitchiness or audio artifacts, thanks to Motorola's triple microphone array and DSP. The speakerphone was also solid, with plenty of volume without breaking up into boominess or noise.
The obvious omission is 4G, disappointing given how impressed we've been with Verizon's LTE network so far. Data speeds were solid for a 3G-only device, but nothing outstanding, a shame given the browser is responsive and the high-resolution display so well suited to streaming video and showing full webpages.
Motorola claims up to 480 minutes of talktime or 220 hours of standby from a full charge of the DROID X2's 1,540 mAh battery. In practice, we made it through a full day with some judicious tweaking of the four battery profile modes (Maximum, Nighttime, Performance and Custom) to adjust data use.
Wrap-Up
The original DROID X shifted the Android game forward; we even suggested that, with Android 2.2 in place, it could be the Google phone to beat. Unfortunately it seems Motorola has let that kudos go to its head in designing the DROID X2. The higher-resolution display is nice, and the dual-core processor welcome, but other elements of the smartphone fall short: the camera is still patchy unless you're blessed with the brightest of lighting, the 720p HD limitation is frustrating, and Motorola's decision to stick with Froyo unfathomable.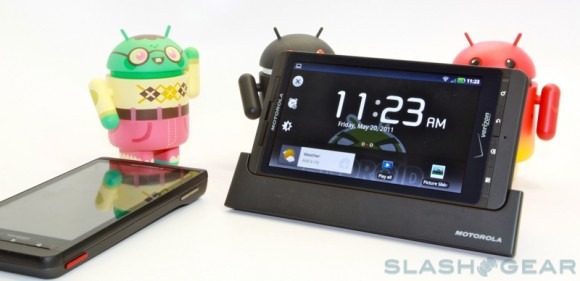 The DROID X2 has improved, but the Android marketplace – and the smartphone segment in general – has advanced more. The DROID Charge may run at WVGA but its Super AMOLED Plus display is brilliant and its LTE connectivity a real advantage; if it's dual-core performance you're after, the T-Mobile G2x delivers on Tegra 2's 1080p HD video promise, while the upcoming T-Mobile Sensation 4G and Samsung Galaxy S II are even faster.
Motorola hasn't made a bad phone, but it hasn't made an outstanding one either, and right now that's what it takes to stand out in the Android marketplace. With heavy hitters offering greater performance, better cameras and fresher software, it's tough for the DROID X2 to raise its head above the crowd. Devotees of the original DROID X will find plenty to like in this incremental update, but this isn't the class-leading smartphone it once was.
Droid X2 Unboxing and hardware walkthrough
[vms de9455cb3d8857ed8838]